Want To Lose Weight? Try A Low-Carb Diet For Six Months
By Nick Harris-Fry published
New research says cutting the carbs for half a year then stopping is a safe bet for losing weight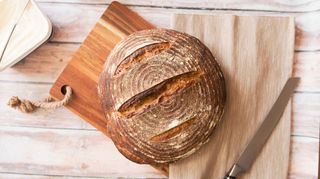 (Image credit: Unknown)
If you're already making plans to go on a diet in the new year, then it may be smart to opt for a low-carb, high-protein regime, with new research from the Mayo Clinic in Arizona finding it the most effective for losing weight.
After analysing data from January 2005 to April 2016, the study found that people who followed a low-carb diet lost between two and a half to almost nine pounds more than those on a low-fat diet.
However, the study also found that these effects only lasted for six months, after which they levelled out to be the same as other diets.
RECOMMENDED: The Simple Test That Works Out How Many Carbs You Should Eat
The research determined that there were no negative effects on blood pressure, glucose, and cholesterol from following a low-carb diet for six months compared to other diets.
There are concerns that low-carb diets lead to increases in meat consumption that can raise the risk of cancer and other health problems. The Mayo Clinic study suggests they are safe for six months, although a lack of data makes getting back on the carb train afterwards a wise choice.
All this positivity around low-carb diets comes with caveats, with Dr. Heather Fields, MD, lead researcher on this study, suggesting the weight loss benefits shouldn't be overstated, and that the main enemy in any case was processed meats:
"The best conclusion to draw is that adhering to a short-term low-carb diet appears to be safe and may be associated with weight reduction," said Dr Fields.
"However, that weight loss is small and of questionable clinical significance in comparison to low-fat diets. We encourage patients to eat real food and avoid highly processed foods, especially processed meats, such as bacon, sausage, deli meats, hot dogs and ham when following any particular diet."
RECOMMENDED: How To Lose Weight Fast
There were limitations with the data used in the Mayo Clinic study, such as the fact that the type of weight loss – whether it was fat, muscle or water – wasn't documented.
The low-carb diets involved were also variable, calling for anywhere between 4% and 46% of daily calorie intake to come from carbs, which muddies the water when it comes to the results.
Still, if you are keen on going low-carb for six months, the study suggests it's unlikely do you any harm, and could well help you trim the fat.
RECOMMENDED: 8 Low Carb Diet Recipes
Sign up for workout ideas, training advice, the latest gear and more.
Thank you for signing up to Coach. You will receive a verification email shortly.
There was a problem. Please refresh the page and try again.