Keep Your Christmas Calories In Check With Bodychef's Meal Delivery Service
By Nick Harris-Fry published
The easiest way to eat healthily this festive season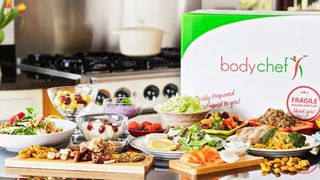 (Image credit: Unknown)
Christmas is a time for joyful reunions with friends and family, post-work parties with colleagues and, together, stuffing your faces. Unfortunately these charming traditions can make healthy living a little tricky, and ensure that the first month of your 2017 fitness kick is spent trying to regain the ground lost in a couple of madcap December weeks.
Clearly a certain amount of excess is unavoidable – nor should you try and avoid it, as you don't want to ruin all your festive celebrating – but there are also a few savvy ways to keep your Christmas a little healthier without spending hours in the gym or kitchen and missing out on all the fun.
Last week, we reviewed four calorie-torching spin classes that can be completed in a lunchtime, and this week's focus is your diet, with the Bodychef "Merry Slimbo" meal delivery service.
RECOMMENDED: The Best Healthy Food Delivery Services
Bodychef Merry Slimbo
Getting all your meals designed and delivered for you to simply heat up is clearly a bit of a luxury, but the Yuletide season is the perfect time for luxury, especially as you're less likely to have the time to prepare nutritionally-sound meals yourself.
The Merry Slimbo plan from Bodychef sorts all your meals and snacks for you, with a week's worth of tasty and healthy food delivered on a Monday morning. The plan keeps your calorie count low, at 1,200 a day, which leaves another 1,300 for boozing before you hit your 2,500 recommended daily amount! (Nanny Coach: That's definitely not how it works.)
Looking at the paltry calorie amounts in the Merry Slimbo meal plans (choose 1,000 or 1,200 per day), Coach feared that it would fall well short of the quantity required to keep hunger at bay. However, no calorie is wasted, and the meals and snacks are filling enough to get you through the working day.
It's tasty stuff too. Stews, soups and even the odd baked good. You won't feel like you're cutting back too much (although you might end up grabbing some bread to bulk up the soup meals), which is important, as once Christmas draws near everyone else in the office will be ditching their healthy diets and heading for Greggs, so you don't want to feel left out.
One danger is that the smallish dinners are not enough to line a stomach ahead of a festive night of carousing, but at least you'll have a few calories in the bank when you hit the kebab shop at midnight.
From £15.98 a day, bodychef.com
Sign up for workout ideas, training advice, the latest gear and more.
Thank you for signing up to Coach. You will receive a verification email shortly.
There was a problem. Please refresh the page and try again.