Monstrous "Freakshakes" Hit London
By Nick Harris-Fry published
Two-hour queues form to sample 1,600 calorie behemoth – which is good because you need to work up an appetite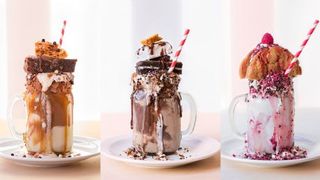 (Image credit: unknown)
Londoners have become so confident in their ability to work off excess calories that rather than shun the latest trend for obese milkshakes they are lining up for hours to buy them.
The "freakshake", a four-figure calorie milkshake/dessert hybrid is believed to have originated in Australia, before taking over New York where queues of up to three hours have built up outside the Black Tap café in Manhattan's SoHo district.
Now these towering Frankenshakes have made their way to the UK, and can be found at centres of indulgence such as Molly Bakes in east London where early-afternoon sellouts have reportedly left them needing to "buy a bigger freezer". So what exactly is this phenomenon, that's capable of causing so many to fly in the face of fitness wisdom?
The Chocolate Shake is, for starters, a 12-inch, 1,600-calorie feat of cream-based engineering. The milkshake base is marbled with chocolate sauce, a dollop of ice cream and is topped off with masses of whipped cream that suspend cupcakes and biscuits, all decorated with a sprinkling of chocolate flakes and scattered with chocolate balls.
RECOMMENDED: How Much Food Does the Daily Calorie Intake for Men Cover?
One of these beasts measures 7.3 on Coach's doughnut scale, the mag's chosen index of excess, a surfeit of calories which is also equivalent to 6.2 Big Macs. To work it off, you'd be looking at running a half-marathon, although as calorie consumption varies depending on weight of runner and speed, lighter, slower people may need to add a few extra sprinkles.
"For every health trend there's going to be an anti-health trend," says Molly's owner Maria Goodman, "and this is it, I guess. When everyone's telling you what to eat all the time, you just want to do the opposite."
"They're also very photogenic, as well as delicious," Maria adds. "The first thing people do when they get one – apart from gawp – is stick them on Instagram."
Molly Bakes (opens in new tab), 450 Kingsland Rd, E8 4AE
Sign up for workout ideas, training advice, the latest gear and more.
Thank you for signing up to Coach. You will receive a verification email shortly.
There was a problem. Please refresh the page and try again.