Upgrade Breakfast With These Healthy Porridge Recipes
By Coach Staff last updated
Make your morning porridge into an ideal healthy breakfast by adding the perfect ingredients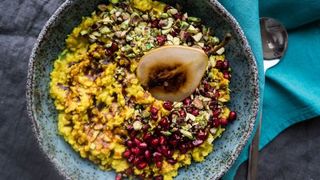 (Image credit: Unknown)
In This Series
Upgrade Breakfast With These Healthy Porridge Recipes
Even if you don't subscribe to the popular maxim hailing it as the most important meal of the day, it's always a fine idea to eat a good breakfast. Whereas the wrong breakfast will see you smash your daily sugar allowance before you've started work and raid the snack drawer by 11am, the right one provides the energy and nutrition you need to knock the first half of the day out of the park.
Porridge is the right kind of breakfast. Those wholegrain oats are packed with vitamins, minerals and fibre, and provides slow-release energy that will see you chugging through to lunch. Plus, the milk gives you a decent protein hit. But it's hardly the most inspiring meal and its high carb content means that it can cause a spike in your blood sugar levels. Thankfully, there's a simple solution that will help to regulate your blood sugar while also making the dish more delicious. Adding cinnamon to a carb-based meal can prevent blood sugar spikes, according to a study in the journal Nutrition And Metabolism. Even better, add half a scoop of protein powder to your porridge mix along with a handful of blueberries for an antioxidant boost and you've got a quick, tasty muscle-building meal.
Ginger Spice Porridge
Add some zing to your morning meal with this spice-filled porridge recipe from Bettina Campolucci Bordi (opens in new tab), author of plant-based recipe book Happy Food: Fast, Fresh, Simple Vegan (opens in new tab) (Hardie Grant, £20).
Ingredients (serves three to four)
1 cup (240g) buckwheat flakes
1 cup (240g) oats
3 cups (480g) almond milk
½ cup (120g) water
Pinch of ground cardamom
Pinch of salt
Orange zest
Splash of maple syrup
1tsp turmeric
1tsp ginger
Pinch of black pepper
Pinch of cinnamon
1tsp coconut oil
Method
In a pan, gently heat the coconut oil with the turmeric, ginger and pepper.
Add the almond milk, buckwheat, oat flakes and salt. Heat gently, stirring occasionally until it is all well mixed.
I like adding more spices such as cardamom and cinnamon at the end, but this is entirely up to your tastes.
Divide the porridge into bowls then top it off with the orange zest and maple syrup. You can also add some coconut yogurt, pistachios, berries or seasonal fruits.
Energy-Boosting Porridge Recipe
Ingredients
50g porridge oats
200ml milk. Milk is packed with muscle-building protein and calcium, which helps your body to metabolise fat efficiently.
1tbsp manuka honey. Manuka honey contains methylglyoxal, an antibacterial agent that helps the body to fight infection.
2tbsp pecan nuts, halved. Pecan nuts are high in heart-healthy monounsaturated and polyunsaturated fats, as well as providing another hit of protein.
Handful of blueberries. Blueberries offer pterostilbene, a compound that helps the body break down fat and lower LDL ("bad") cholesterol.
To Make
Put the milk and oats in a pan. Cook over a medium heat for eight to ten minutes, stirring occasionally. Top with the remaining ingredients and serve immediately.
Coach is the place to come for all your health, fitness, and personal wellness needs.
Sign up for workout ideas, training advice, the latest gear and more.
Thank you for signing up to Coach. You will receive a verification email shortly.
There was a problem. Please refresh the page and try again.