Healthy Christmas leftover ideas
By Coach Staff published
This spicy dish makes a tasty, healthy Boxing Day meal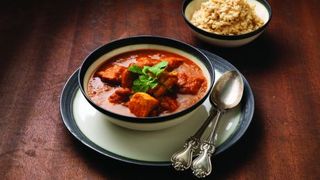 (Image credit: Unknown)
It's a great Christmas tradition to get a turkey that's twice the size you need it to be – so if you've got stacks of leftover meat on Boxing Day, try this healthy curry recipe. Packed with a host of spices, it's guaranteed to get your metabolism firing, helping your body to burn off all the extra calories from the booze and mince pies you no doubt consumed the day before.
How to make it
Ingredients - Serves 2 250g cold roast turkey, cut into chunks / 1tsp olive oil / 1 onion, diced / 2 garlic cloves, crushed/ 3 green chillies, diced / 1 green pepper, sliced / 2cm fresh ginger, grated / 1tsp ground cumin / 1tsp ground coriander / 1tsp turmeric / ½tsp garam masala / 1tsp tomato purée / 400g can chopped tomatoes / 1tsp lemon juice / 60ml water/ A handful of fresh coriander, chopped / Salt and pepper, to season
Boxing clever
Potatoes are packed with vitamin C, which boosts immunity and also helps with protein synthesis by playing a key role in the formation of collagen.
Carrots are a great source of vitamin A, needed for processing visual imaging, particularly in dim light. It's fat-soluble, so is best absorbed when eaten with a meal containing some fat.
Brussels sprouts are full of fibre that feeds your gut bacteria, which in turn can improve nutrient absorption, boost your immune system and even lower LDL ('bad') cholesterol.
Cabbage contains high levels of glucosinolates, which may have a protective effect against certain forms of cancer – studies have shown they can block the initiation of tumours.
Coach is the place to come for all your health, fitness, and personal wellness needs.
Sign up for workout ideas, training advice, the latest gear and more.
Thank you for signing up to Coach. You will receive a verification email shortly.
There was a problem. Please refresh the page and try again.