10-minute meal: Green eggs and ham recipe
By Coach Staff published
Bored with scrambling and frying? Make your morning eggs even healthier and more delicous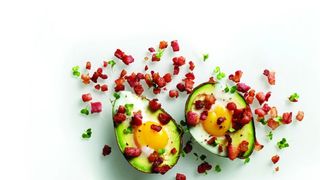 (Image credit: unknown)
It's the conundrum of egg-eating: the yolk is the best bit but without bread to mop it up, how do you make sure you get it all? Here's how: by baking it in an avocado holder, which will give you a decent hit of healthy fats alongside your muscle-building protein. This combination will also boost your energy and help keep you full so you avoid the temptation to snack mid-morning.
Check out our dedicated 10-minute meal page for more quickfire recipes. (opens in new tab)
Avocado baked eggs with pancetta
Ingredients (serves 1)
1 large avocado / 2 free-range eggs / 70g pancetta / Small handful of cress /Pepper to taste
To make
Preheat the oven to 200˚C/gas mark 6.
Halve the avocado and remove the stone.
Crack the eggs into the holes where the stone was.
Place in a casserole dish with the lid on and bake for eight minutes.
Meanwhile lightly fry the pancetta in a non-stick pan over a medium heat for four to five minutes, stirring throughout, until it's crisp.
Remove the pancetta from the pan and place it on kitchen roll to remove any excess oil.
Sprinkle the cress, pepper and pancetta on the avocados and serve.
Nutritional info
Avocado provides fibre, which improves digestion
Pancetta provides vitamin B6, which boosts energy levels
Eggs provide zinc, which increases testosterone production
Watercress provides vitamin K, which strengthens bones
Struggle getting your eggs perfect. This should help. (opens in new tab)
Coach is the place to come for all your health, fitness, and personal wellness needs.
Sign up for workout ideas, training advice, the latest gear and more.
Thank you for signing up to Coach. You will receive a verification email shortly.
There was a problem. Please refresh the page and try again.