Low-carb pizza recipe
By Coach Staff published
How to make a healthy homemade pizza that's low on carbs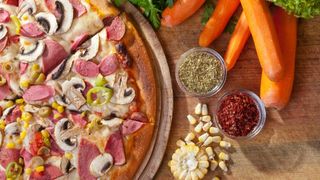 (Image credit: unknown)
Get all the taste of that longed-for pizza with as few carbs as possible. Once you've tried this recipe, find more about some of the best low-carb diet food swaps to help keep off that weight.
Ingredients (serves 1 or 2 people dependant on how greedy you are)
Pizza base:
1 large cauliflower (grated 200g)
1 large whole egg
60g grated mozzarella
30g grated parmesan
1 rounded teaspoon of pureed garlic
1 teaspoon of basil & 1 teaspoon of oregano
Pink salt and black pepper to taste
Pizza topping:
60g grated mozzarella
40g tomato puree
Sliced ham
Method
Grate cauliflower into bowl (200g) until it resembles rice/cous cous
Cover and microwave for 4 minutes
Place in tea towel and ring till all water is drained from the cauliflower
Place Cauliflower into a large bowl and add all remaining (base) ingredients
Mix until consistency and mixture are even
Pre-heat oven and tray to 220 degrees (gas mark 7)
Spread a very thin layer of coconut oil on grease proof paper
Spread mixture evenly on the paper, around 7 inches in diameter
Place in oven for 10-12 minutes until lightly golden
Topping
Remove base from oven
Spread tomato puree evenly across the base
Sprinkle mozzarella evenly
Two slices of diced/torn sliced ham
Place back in oven for 5-7 minutes at same heat; baking as to your desired texture/colour, remove from oven and chow down.
Nutritional info
Protein: 53g
Fats: 26g
(Total) Carbohydrates: 10g
http://www.ldnmuscle.com/ (opens in new tab)
Coach is the place to come for all your health, fitness, and personal wellness needs.
Sign up for workout ideas, training advice, the latest gear and more.
Thank you for signing up to Coach. You will receive a verification email shortly.
There was a problem. Please refresh the page and try again.