Healthy fish and chips recipe
By Coach Staff published
Skip the chippy and make this classic British dish at home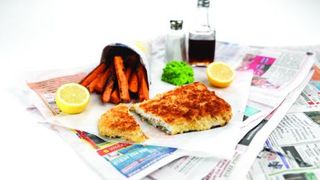 (Image credit: unknown)
If you're trying to eat healthily, you probably resist the lure of the chip shop – but there's no reason you have to do without fish and chips. If you make it yourself, it's better for you and probably tastes better too. This nutritious version is easy to make, allowing you to enjoy the classic British takeaway without leaving the comfort of your own kitchen.
How to make it
Ingredients
Serves 1
1 large cod fillet / 2 slices wholemeal bread, crusts removed / 1 egg, lightly whisked / 2 sweet potatoes, cut into 2-3cm strips / 50g fresh peas / 1 knob of butter / ½ a lemon
Instructions
Preheat the oven to 200°C/gas mark 6.
Place the bread in a food processor and blend until it forms crumbs.
Dip the cod fillet into the whisked egg, then cover with the breadcrumbs. Place on a sheet of greaseproof paper on a tray and bake for 20-25 minutes.
Coat the sweet potato slices in olive oil, place on a tray and bake for 25-30 minutes.
Heat the butter in a pan, add the peas and cook for ten minutes. Add a squeeze of lemon and mash until appropriately mushy.
On the sauce
Enjoy your fish and chips with these healthy home-made condiments from chef Karol Gladki
Tomato
1tbsp finely chopped red onion / 1 garlic clove, diced / 1tsp olive oil / 1 can chopped tomatoes / 1tbsp tomato purée / Pinch of sugar / Salt and pepper to taste
To make
Fry the onion and garlic in the olive oil, add the tomato and let it reduce. Add the purée and sugar, and season to taste with salt and pepper.
Tartare
2tbsp diced gherkins / 1tbsp chopped capers / 1tbsp diced shallots /1tsp chopped parsley / 70g mayonnaise / 1tsp lemon juice
To make
Place the gherkins, shallots, capers and parsley in a bowl. Mix with the mayonnaise and lemon juice.
Curry
1 cube vegetable stock / 1 medium onion, roughly chopped / 1 garlic clove, diced / 1tsp chopped fresh coriander / 1tsp diced fresh chilli / 1tsp curry paste / 2tbsp water
To make
Blend all the ingredients in a food processor, then heat over a medium heat until warmed through.
Coach is the place to come for all your health, fitness, and personal wellness needs.
Sign up for workout ideas, training advice, the latest gear and more.
Thank you for signing up to Coach. You will receive a verification email shortly.
There was a problem. Please refresh the page and try again.