Waldorf salad recipe: 10-minute meal
By Coach Staff published
This spin on the classic salad will build muscle and get you shredded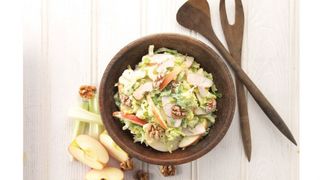 (Image credit: unknown)
It was created in the New York hotel of the same name in the 1890s, and over a century later this classic salad can still make for a quick, easy, fitness-boosting lunch. This MF version adds protein-rich chicken to encourage muscle growth, while the dressing – which contains insulin-controlling lemon juice and metabolism-boosting mustard – will aid fat loss.
Ingredients
Salad
½ a red apple, sliced / ½ a stalk of celery, peeled and chopped / 100g cooked chicken, chopped / 15g walnuts / ½ a head of baby gem lettuce, chopped / 1tsp chopped parsley
Dressing
2tbsp natural yogurt / 1tsp Dijon mustard / 1tbsp lemon juice
To make
Mix the salad ingredients in a bowl.
In a separate bowl, whisk together the dressing ingredients.
Garnish the salad with the dressing, season with salt and pepper to taste and serve
The nutritonal value
Walnuts are a source of joint-soothing omega 3 fats
Natural Yoghurt is rich in energy-boosting vitamin B12
Apples contain around 4g of filling fibre each
Coach is the place to come for all your health, fitness, and personal wellness needs.
Sign up for workout ideas, training advice, the latest gear and more.
Thank you for signing up to Coach. You will receive a verification email shortly.
There was a problem. Please refresh the page and try again.