Healthy carbs meal plan
By Coach Staff published
Fuel yourself for endurance racing with this healthy carbs-based meal plan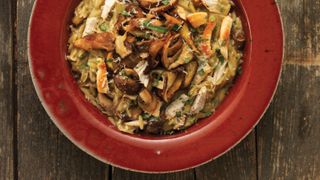 (Image credit: Unknown)
Stocking up on carbs the day before a big race can make all the difference between a glorious sprint finish and a horrible meltdown, with a mixture of slow and fast energy release being the key. That's why the plan below features plenty of healthy carbs with every meal and snack to top up your endurance-boosting glycogen levels throughout the day, including the chicken and mushroom risotto recipe provided by Michelin-starred chef and duathlon champion Alan Murchison.
'Endurance athletes rely heavily on carbs, which can lead to a boring, repetitive diet,' says Murchison. 'To mix things up, I've used a pasta called orzo in this risotto instead of rice. It's shaped like a large grain of rice and has a soft texture that complements the mushrooms – plus it cooks in less than ten minutes, leaving you plenty of time to train.'
Breakfast
Porridge oats with milk and honey provides a mixture of slow and fast-release carbs and metabolism-boosting iron.
Lunch
Baked sweet potato with tuna offers high levels of carbs and heart-healthy betacarotene.
Dinner
Chicken and mushroom risotto (serves 4)
Ingredients
4 chicken breasts, diced
25g unsalted butter
1 small onion, finely chopped
2 cloves of garlic, crushed
250g button mushrooms, sliced
350g orzo
400ml chicken stock
250g chestnut or shiitake mushrooms, finely sliced
2tbsp olive oil
2tbsp crème fraîche
3tbsp fresh parmesan, grated
1 small bunch of fresh tarragon, finely chopped
To make
Heat half the olive oil in a pan over a medium heat and add the diced chicken breast. Sauté for four to five minutes, then set to one side.
In a separate pan, gently cook the onion and garlic in the butter for three to four minutes over a medium heat until soft, then add the mushrooms and cook for a further five minutes.
In another pan, simmer the orzo in 400ml of chicken stock over a medium heat for nine minutes until soft, then drain.
Mix the orzo and the chicken with the mushroom mixture and heat gently over a low heat for three to four minutes.
Stir in the crème fraîche, parmesan and tarragon, then remove from the heat and serve.
Snacks
Oranges and blueberries are packed with energy-giving fructose as well as immunity-boosting antioxidants and vitamin A.
Alan Murchison is executive chef at L'Ortolan (opens in new tab) in Berkshire
Coach is the place to come for all your health, fitness, and personal wellness needs.
Sign up for workout ideas, training advice, the latest gear and more.
Thank you for signing up to Coach. You will receive a verification email shortly.
There was a problem. Please refresh the page and try again.