Healthy French Toast Recipe
By Coach Staff published
Help keep the belly off with an egg breakfast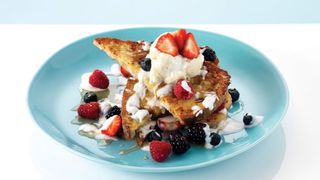 (Image credit: unknown)
When you want to lose weight, what you eat for breakfast can have a big role to play in your success – and there are few better fat-burning brekkies than a couple of eggs. That's according to a study presented at the European Congress on Obesity, which found people who ate two eggs in the morning reported feeling fuller for longer than those who ate cereals and subsequently ate less at lunch.
Blood tests showed levels of the hunger hormone ghrelin were lower in those who had eggs while levels of PYY, a hormone that makes us feel full, were higher. If you're worried about high cholesterol, don't be: research by the British Nutrition Foundation found that the cholesterol in eggs has minimal effect on your risk of heart disease. Make having eggs for breakfast easy with the delicious French toast recipe below.
RECOMMENDED: A Cracking Healthy Breakfast Recipe – Eggs Florentine
Chucking berries on your eggy bread and giving it a Gallic moniker turns a potentially unappetising breakfast into a delightful treat. What's more, it needn't be unhealthy: by using lower-GI sourdough bread, you'll drip-feed your body energy throughout the day and minimise the blood sugar crashes that lead to fat storage.
Ingredients
2 eggs
2tbsp milk
Pinch of salt
1tbsp sugar
Pinch of cinnamon
2 slices sourdough bread
2tbsp butter
1tbsp Greek yogurt
2tsp honey
Handful of mixed berries
To make
Whisk together the eggs, milk, salt, sugar and cinnamon in a bowl.
Submerge the bread in the mixture, ensuring each slice is fully covered.
Melt the butter in a frying pan and fry each slice for two minutes on each side.
Serve with the yogurt, berries and honey.
RECOMMENDED: Five Weekend-Winning Breakfast Ideas From Clean Eating Alice
Coach is the place to come for all your health, fitness, and personal wellness needs.
Sign up for workout ideas, training advice, the latest gear and more.
Thank you for signing up to Coach. You will receive a verification email shortly.
There was a problem. Please refresh the page and try again.