Bulking diet meal plan
By Coach Staff published
This diet will help your muscle-building and bulking efforts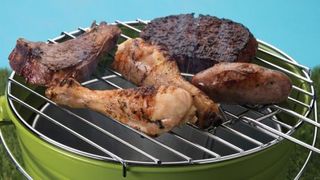 (Image credit: Unknown)
This typical daily meal plan features protein in every meal and snack, including the mouth-watering mixed grill below, to ensure your muscles are drip-fed the key nutrient throughout the day.
Breakfast
Porridge oats with chocolate whey protein and skimmed milk provides plenty of filling fibre and bone-strengthening vitamin K.
Lunch
Baked sweet potato with smoked mackerel and Greek yoghurt contains high-levels of testosterone-boosting zinc and muscle-building iron.
Dinner
Mixed grill barbecue
1 steak burger / 1 lamb chop / 1 pork sausage / 2 chicken drumsticks / 2tbsp olive oil / 1 garlic clove, crushed / 1tsp dried thyme / 1tsp dried rosemary
To make
Mix the olive oil with the garlic and herbs to create a marinade.
Cover the meat with the marinade and leave in the fridge for one to two hours.
Barbecue the chicken and sausage until thoroughly cooked.
Barbecue the lamb and steak burger to preference.
Serve with a side salad.
Snacks
Cashew nuts, cottage cheese and beef jerky all offer convenient snack-size protein hits to keep you full and help build muscle.
Coach is the place to come for all your health, fitness, and personal wellness needs.
Sign up for workout ideas, training advice, the latest gear and more.
Thank you for signing up to Coach. You will receive a verification email shortly.
There was a problem. Please refresh the page and try again.