Scotch egg recipe
By Coach Staff published
Add serious size with an MF-enhanced take on the classic Scotch egg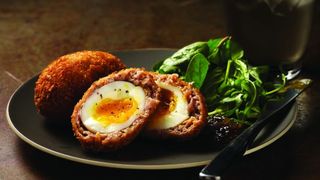 (Image credit: Unknown)
A protein-packed double whammy of egg and sausage meat makes this classic British snack an ideal post-gym treat – provided you avoid the processed perils of the supermarket variety and make it yourself. This simple recipe from Michelin-starred chef Adam Gray features high-quality ingredients that will help, not hinder, your training.
Ingredients (makes 4 eggs)
5 large free-range eggs / 275g Cumberland sausage meat / Freshly ground black pepper /
125g plain flour / 125g dried wholemeal breadcrumbs / 1 litre rapeseed oil
To make
Boil four eggs in a pan of water over a medium heat for six minutes.
Remove the eggs from the pan and place them in a bowl of ice water for five minutes.
Remove from the water and peel carefully.
Divide the sausage meat into four balls and flatten them using the palm of your hand.
Place an egg on each of the sausage meat patties and carefully wrap them up, ensuring all of each egg is fully covered and sealed.
Break and beat the fifth egg and season the flour with the black pepper.
Dip each sausage meat-coated egg in the flour, then the beaten egg and finally the breadcrumbs. Ensure each egg is fully covered at every stage.
Heat the rapeseed oil in a pot over a medium heat, then shallow fry the Scotch eggs for four minutes, turning throughout with a slotted spoon.
Carefully remove the eggs from the pot and place them on kitchen roll to remove any excess oil.
Chef tips
Heston Blumenthal says… If you prefer your snacks spicy, add smoked paprika and mustard to the sausage meat.
Jamie Oliver says… Add finely chopped fresh chives and parsley to the sausage meat for a herby undertone.
Delia Smith says… Add finely chopped spring onions to the sausage meat and you'll give it a tangy kick.
Coach is the place to come for all your health, fitness, and personal wellness needs.
Sign up for workout ideas, training advice, the latest gear and more.
Thank you for signing up to Coach. You will receive a verification email shortly.
There was a problem. Please refresh the page and try again.