How 30 Minutes Of Downtime A Day Can Improve Your Wellbeing
By Nick Harris-Fry published
Plus advice on how to find that 30 minutes in even the busiest of schedules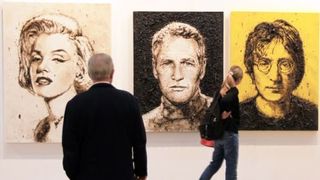 (Image credit: Unknown)
No-one would struggle to follow the logic involved in the statement "doing things you like for at least 30 minutes a day makes you happier" – so it's remarkable how few of us actually do it. It may feel like time is always against us but with a little planning, most people can find that 30 minutes, and the benefits of doing so shouldn't be underrated.
Art Fund (opens in new tab), the national charity for art, has collaborated with Professor Paul Dolan, behavioural scientist at the London School of Economics, to create a report that highlights how men in particular don't make time for themselves by doing things like visiting museums and art galleries.
The report found that 58% of men do not make deliberate choices to improve their wellbeing, even though an impressive 72% of people who make time for a hobby are satisfied with life overall. In contrast, only 47% of men who don't make time for a hobby are satisfied with life.
We spoke to Dolan and Stephen Deuchar, director of Art Fund, about the report and the benefits of making regular time for your hobbies.
How does taking 30 minutes of downtime a day to do things like visit museums improve your wellbeing?
"The experience of going to museums and galleries can provide an active break from the day-to-day," says Dolan. "It's a chance to step away from the desk, enjoy a change of scene and pursue a less passive form of leisure activity.
"Because everyone has different tastes and opinions on art, galleries can be calming, stimulating, inspiring, invigorating and everything else besides.
"Visiting once a week, or even just once a month, can impact our lives in many ways – giving us additional topics of conversation within our social circle, helping us learn new things in a fun way and giving us moments of calm to reflect."
Do you have any tips about how you go about finding 30 minutes in your day?
"Most of us have the time – we just don't find the time," says Dolan. "We could all do with taking a step back every once in a while, and assessing what really makes us happy and miserable, and then implementing a plan that will make us happier overall.
"But changing the habits of a lifetime is hard. We need to build good practices into our daily routines and then persist with them for a couple of months before they stick. Set yourself realistic short, mid and long-term goals that will give you a framework to plan and make positive changes over time.
"Modern-day stressors can sometimes be of our own making – such as spending too much time on social media. We have far more control than we think we do over the management of our own time to avoid these stressors, and we can make an active choice to change.
"By making time for yourself more often, the more habitual the behaviour becomes and this will only have a positive impact on our overall wellbeing."
See related
Will any leisure activity provide the same benefits?
"One is not better than the other," says Deuchar. "However people chose to spend that time, we want people to put themselves first by taking back time to do what really matters to them."
Naturally, Deuchar considers museums and galleries a great option for this. "You don't need to spend hours at an exhibition to feel the benefit. Drop in during a lunch break, mix up a weekly meeting by changing the venue to a gallery, meet up with a friend after work, or schedule in some dedicated 'me time' each week. There are plenty of ways to make museums and galleries fit into your life."
The National Art Pass (opens in new tab) costs £70 and provides access to over 240 museums, art galleries and historic sites as well as a discount on entry to exhibitions at venues including the Tate and the Natural History Museum
Sign up for workout ideas, training advice, the latest gear and more.
Thank you for signing up to Coach. You will receive a verification email shortly.
There was a problem. Please refresh the page and try again.