"I Worry Less Now, Because I Run More" – How Running Can Help Your Mental Health
By Nick Harris-Fry published
There are more than physical benefits to be gained from running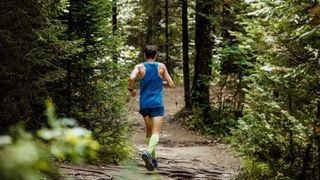 (Image credit: unknown)
The biggest mistake many people make with running is to view it as a torturous activity only to be undertaken with the aim of getting fitter. The truth is that while running is not a panacea for all of life's ills, it should be an enjoyable pastime that can benefit both body and soul.
Darnell Hathaway, a 34-year-old father of two from Andover, started running on the recommendation of a friend and has found that it makes a huge difference to his mental wellbeing.
Hathaway works for Simplyhealth, partner of the Great Run series, and is tackling both the Great North Run and the Great South Run this autumn, having completed three other events in 2017 already. Coach spoke to Hathaway to find out how running helps with his mental health.
What mental health issues have you suffered with and what help have you sought?
"I've suffered from depression, insomnia, suicidal thoughts and anxiety. I used to hide how I was feeling very well though, so when people began to find out about what I was going through it took them by surprise.
"At first, I didn't tell anyone for fear of being treated differently or having people walk on eggshells around me. There was also the stereotype that, as a man, you cannot express how you're feeling and you've just got to get on with it and things will work themselves out in the end.
"I registered with a community mental health team, which consisted of weekly face-to-face counselling sessions. I was also put on anti-depressants and given sleeping tablets, owing to the insomnia I was dealing with as part of my depression.
"The medication and the counselling were a huge help and slowly I began to talk through more of what I was going through. My wife Rebecca has always been there for me, at every step of my recovery."
How did you get into running?
"Although I was sporty as a kid, I wasn't a keen runner. It was actually indirectly through krav maga – the self-defence system – that I discovered running.
"A fellow practitioner, in much better shape than I was, jokingly asked if I ran the two-point-something miles to class on a Sunday. 'No chance, ever,' I thought.
"One weekend, however, I decided to give it a go."
Did you enjoy running immediately?
"At first, I hated every second of it. I would stop countless times. But I persevered and slowly started to notice I was stopping less and it was becoming easier.
"I found myself going out once during the week, then more and more regularly. My weight started to drop, which was certainly a welcome change! I've lost nearly two stone [12.7kg] since taking up running and that's without being particularly strict on my diet."
How has running helped your mental health?
"It has become a serious hobby. I think it's the fact that when you're out running you don't think about anything other than where you're going and that feeling of achievement at the end. Even if it's just a smaller run or if you are running solo and want to think, you have that time by yourself with no interruptions.
"The best way I can summarise it is that I worry less now, because I run more."
RECOMMENDED: Would You Talk To A Colleague About Your Mental Health?
Have you had ups and downs with running, or ever given it up?
"It's funny you should be ask. Although I've never given up running – I've only been doing it for just over a year – I currently feel as though I'm on my way back up from a slump.
"I had a niggling calf injury that wasn't shifting – I'm guilty of doing the 'if I just ignore it eventually it'll go away' thing – which made me feel as though I couldn't push myself as much. Also, things happening in my life meant that I wasn't able to run as often. This started to affect my mood and also my motivation in regards to running and exercise.
"One of the great things about working for Simplyhealth is our staff Cash Plan. This enabled me to see a physio about my injury and start treatment, which has helped a lot with the physical side of the injury.
"I'm also slightly less busy currently which has meant I've been able to return to my usual routine, which has massively helped improve the emotional and mental side of things. At work, we've also launched an online movement hub, Millions Moving (opens in new tab), which is a source of inspiration when I'm feeling low and in need of some motivation."
Do you prefer running with others or by yourself?
"I don't think I really have a preference. The majority of the running I do is by myself and it is nice to just go out and not really think about anything other than where I'm heading and taking in the scenery, or if you have something to think about being able to think about it.
"I do also enjoy company on a run and think that sometimes having someone there makes the run feel a bit easier because you can be distracted from how hard you are finding the run with conversation."
RECOMMENDED: What Is Dynamic Running Therapy?
Do you enjoy training for big events?
"So far, since February this year, I have completed the Cancer Research London Winter Run 10K, as well as two of the Simplyhealth Great Runs – the 10K runs in Birmingham and Manchester.
RECOMMENDED: 10K Training Plans For Everyone
"I have the Great North Run, the Andover Food Bank 10K run, the Great Birmingham Run and the Great South Run coming up. I've also put my name into the 2018 London Marathon Ballot!"
We would say that's an emphatic yes…
Hathaway works for healthcare company Simplyhealth, the title partner of the Great Run Series. For tips and motivation on how you can get more active, visit millionsmoving.co.uk (opens in new tab)
Sign up for workout ideas, training advice, the latest gear and more.
Thank you for signing up to Coach. You will receive a verification email shortly.
There was a problem. Please refresh the page and try again.