How To Cope Mentally When The Going Gets Tough In Your Marathon Training
By Nick Harris-Fry published
Follow these expert tips to avoid being derailed by the low points on your long runs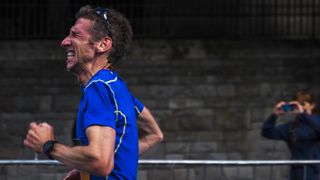 (Image credit: Unknown)
Physical pain is expected when you sign up to run a marathon. Or at least we hope it is, because if not we have some really bad news about how hard running 42.2km is. However, even those well aware of the impending physical challenge might well underestimate the mental effort required to complete a marathon.
Fortunately, just as you prepare your body physically by logging a few months of regular running to train for your marathon, you also have the chance to prepare mentally, especially during your long runs.
Once you get six to eight weeks in to marathon prep your schedule will start showing terrifying figures like 25, 30, or even 35km on it – all to be done in one go, usually on a Sunday to prepare you perfectly for the race itself. These runs can be even tougher mentally than the race itself, because if you're running a huge event like the London Marathon there'll be encouragement from the massive crowds that line the streets – hopefully including your friends and family rooting for you. In contrast, no-one gives two figs if you stop two-thirds of the way through a 30km long run, so maintaining a positive frame of mind when it starts feeling really hard can be tricky.
The good news is that, according to Team GB ultrarunner and Montane ambassador Debbie Martin-Consani, you don't need to maintain a positive frame of mind.
"When things are getting really tough you've got to try to disassociate from how you feel at that time. I don't over-focus on staying in a positive, so-happy-to-be-there state. Once you get into a negative mindset, things are screaming at you to stop and you just don't want to be there, so I try and stay in a neutral place – even if it's just focusing on my breathing and emptying all the rubbish that's in my head. I focus on just breathing in, breathing out, over and over again.
See related
If that doesn't work, or only works temporarily, Martin-Consani has other tricks up the sleeve of her high-tech running top. "Another thing I do is count, because if you're focusing on counting, you're not thinking about anything else. Just count to 30, 40, 100 – don't count too high, you'll get frustrated. I count to 30 or 40 over and over again until I start to calm down."
There are lot of things that can stress you out during a race – physical pain, how much distance you have left, time concerns if you're chasing a PB… But if you can find a way to clear your head and get into a neutral state, you're going to enjoy the event a lot more.
"You can get really stressed and that's what causes all the negative things," says Martin-Consani. "It might not necessarily be because you're feeling discomfort – you're going to feel discomfort anyway. When your head goes it's because you're getting mentally stressed. Focus on mindfulness and think about anything other than the negative stuff that's in your head."
Sign up for workout ideas, training advice, the latest gear and more.
Thank you for signing up to Coach. You will receive a verification email shortly.
There was a problem. Please refresh the page and try again.