One Excellent Piece Of Gear For Your Marathon Training You Might Not Have Considered – But Should
By Nick Harris-Fry last updated
Recovery shoes, sliders or flip-flops are the best way to look after your feet after a long run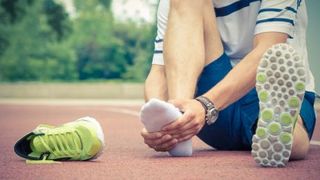 (Image credit: Unknown)
Now it's officially springtime it usually seems like there are more runners than ever on the streets, but it's probably just the same number of runners staying out for longer, because this is when spring marathoners ramp up the distance of their long runs. Those following a strict training plan will probably have already hit the mark of 20-25km in one go, but come March it's 30-35km that will become the norm – until the tapering period kicks in the final few weeks before the race itself.
You will probably have amassed a good deal of gear to support running all that way every weekend. Along with a trusty pair of running shoes, there will be technical T-shirts and shorts, and hopefully you've become well acquainted with on-the-go fuel like running gels and hydration tabs, because it's worth getting used to these things long before race day.
But one piece of kit you might not have considered is a pair of recovery shoes. These can take several forms, with sliders and flip-flops the most common, but they all serve the same purpose – to help support your feet as they recover from long runs.
It might seem bit of an indulgence to treat your feet to a pair of dedicated shoes for recovery, but considering what you're putting your trotters through it's really the least you can do.
I started using recovery shoes in the build-up to the London Marathon last year, and I experience a very real feeling of joy every time I slip them on after a long run. I use a pair of Oofos recovery flip-flops at the moment, and have used Hoka Ora sliders in the past, and both have the same advantages – they are light, breathable and provide plenty of support, in particular, for my arches. And if you're worried about foot injuries, it's not wise to stroll around barefoot or in regular flip-flops after a long run, because it's all extra impact on feet still recovering from the effort of the run.
Are recovery shoes a panacea for all running-related injuries? No, but it does feel fantastic when you put them on, and we all deserve a boost like that when we've chugged through a 30km training run. Here are a few recovery shoes to consider.
See related
The Best Running Recovery Shoes
(opens in new tab)
If you favour a flip-flop, this ultra-padded beauty from OOFOS is the way to go. There is a lot of cushioning all over the shoe to provide post-run support, and the extra-high arches do a phenomenal job of cradling the middle of your foot. £40, buy on oofos.co.uk (opens in new tab)
Buy from OOFOS (opens in new tab) | £43
---
Hoka's running shoes are renowned for the massive chunk of cushioning on the sole and the principle of maximum support has been extended to recovery shoes with this exceedingly comfortable slider.
Buy from Runners Need (opens in new tab) | £35
---
PR Soles Recovery Sandals
These sliders see the high levels of support found in other recovery shoes and raise them by adding points to the footbed to massage the foot while you're wearing them. Rest assured, the bumps are not uncomfortably firm but provide just the right level of support for your aching feet after a long run, or just a long day on your feet at work.
Buy on Amazon (opens in new tab) | From £28.83 (plus delivery)
---
OOFOS OOMG Fibre Low Shoe
Recovery flip-flops and sliders are all well and good, but sometimes your post-race schedule does not allow you to go open-toed. You can just stay in your running shoes in that situation, but no-one really wants to walk around in the same sweaty footwear they've just raced in, so OOFOS's recovery shoes are a better option. The OOMG Fibre shoe has the same supportive sole as the company's sliders and flip-flops, but adds a stretchy mesh upper.
Sign up for workout ideas, training advice, the latest gear and more.
Thank you for signing up to Coach. You will receive a verification email shortly.
There was a problem. Please refresh the page and try again.