​​How To Get A Charity Place For The London Marathon 2022
By Nick Harris-Fry last updated
Book your spot in this year's event by applying to fundraise for your favourite charity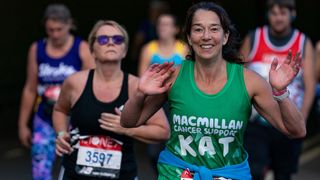 (Image credit: Unknown)
Ever since the London Marathon ballot stopped capping entries at 125,000 people, the number of people throwing their hat into the ring for a race place has grown every year. Unfortunately the number of actual places available through the ballot has stayed the same, with the result that the ballot disappoints far more runners than it delights every year.
Most of the entrants in the 2021 London Marathon rolled their spot over from 2020, when the mass participation race was cancelled, which means there was pent-up demand among runners desperate to have a crack at the event in 2022.
The results of the 2022 ballot have now been announced and hundreds of thousands of runners will have been told they've missed out. The only option for people seeking a spot now is a charity place – unless they're quick enough to claim a Good For Age or Championship place. Getting a charity place at the marathon, however, is the most rewarding way of all to complete the 42.2km – and it's arguably a more reliable method of obtaining a place than simply entering the ballot.
However, that's not to say it's easy to get a charity place. You'll need to move quickly – some charities are so oversubscribed they now close registrations more than six months before the race.
If you want to apply for a charity spot and already have a cause that's close to your heart, look at that charity's website to see if it is accepting applications for places in the 2022 London Marathon. If you don't already have a cause in mind, visit the London Marathon website to see a list of charities (opens in new tab) that have guaranteed places in the race.
---
See related
---
You can apply to more than one charity to boost your chances of getting a place, but it's best to stick to ones that you have a genuine connection with. That's because charities will generally choose their runners based on the connection they have to the cause and an estimation of how much the runner will be able to raise. If you have taken part in other events to raise money for a charity in the past, that could help your chances.
Each charity's website will have details of how to apply and what it expects from its runners. Charities have to pay for the places, so bear in mind you'll be required to bring in a fairly large amount of sponsorship money if you are given a place – £2,000 is typical. This will probably not be a voluntary target, which means you'll have to make up any shortfall yourself. Some charities also charge a registration fee, payable on offering you a place, which is likely to be in the region of £100.
If that figure seems daunting, take a look at this fundraising advice for a marathon for some recommended strategies. It's only a small taste of the support and ideas you'll receive from the charity you're running for – they're invested in your success after all, especially given that the cancellation of so many events in 2020 and 2021 starved charities of fundraising they rely on.
You don't just get a race place: the charity will offer plenty of support for both your marathon training and fundraising, and on the day itself you'll have your own dedicated cheer squads looking out for your organisation's vest. It can make all the difference, as we found out when we spoke to Tom Barron, who ran the London Marathon to raise money for Afghanaid. "I hit a real low point at the 22nd mile of the race," says Barron. "I was struggling a lot. But I remember looking up and seeing 30 or so green Afghanaid shirts in the crowd all cheering me on. That was such a well-timed pick-me-up."
Most charities will let you know at least six months before the race whether or not you have been successful in applying for a place so you can start training in good time for the event.
Finally, it's worth noting that even if you get a place in the London Marathon through the ballot rather than a charity spot, you can still raise funds for a cause you believe in. Once you have your ballot place, inform the charity that you'll be running the event and that you'd like to raise money for it. You'll still be provided with excellent support and you won't have any mandatory fundraising goals – you'll just be trying to raise as much as possible. It's a win-win.
Sign up for workout ideas, training advice, the latest gear and more.
Thank you for signing up to Coach. You will receive a verification email shortly.
There was a problem. Please refresh the page and try again.