London Marathon 2021 Travel Guide: How To Get To The Race
By Nick Harris-Fry published
Start your race day the right way with a well-planned, stress-free trip to the start line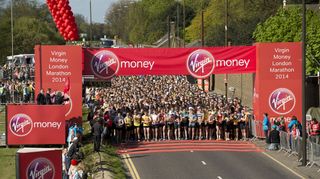 (Image credit: Unknown)
Greenwich Park is one of the nicest places in London. It is not, however, a place that many people would describe as easy to get to early on a Sunday morning, let alone when 40,000 people are also trying to get there for the start of the London Marathon.
That pressure of numbers will be somewhat less this year, as runners have been given different start windows between 9.30am and 11am to reduce crowding at the start and on public transport.
This should make your travel to the start a little less chaotic but planning ahead is still vital, especially since there is no bag drop on the day this year, so more people than usual may travel to the start line without a smartphone to refer to. To make the experience as pain-free as possible, give yourself as much time as you can to complete the journey and heed these six bits of advice.
1. Check Your Arrival And Start Times
Your registration email gives you a lot of information to help you plan your journey, including recommended stations for your bib colour, an arrival window with suggested trains and your start time. Sticking to these suggestions will make the whole experience as easy as possible for you and all the other runners, so plan your journey around this advice if possible.
2. Be Prepared For A Short Walk
You're about to run 42.2km so it's understandable to avoid any extra activity on Sunday morning, but the start areas are all 10 to 15 minutes away from a station. Making sure you arrive at the right station will help to cut down your walk though, by up to 15 minutes.
The Blue start is a 10-minute walk from Blackheath station, as is the Yellow start. The Green start is 10 to 15 minutes from Maze Hill, and the Red start is 10 to 15 minutes from Maze Hill or Greenwich. If you arrive at the station suggested in your registration email, there will also be signs to follow to your start. Just make sure you give yourself plenty of time for this walk, because you really don't want to be running to make your start on time.
3. Bring Warm, Old Clothes
Runners have to hand in their bag at the Expo for this year's race, which means you won't be able to drop off any gear at the start to collect at the end. Given that the suggested arrival times can be more than an hour before you actually start the race, you're probably going to need warm clothes to wear while waiting. Wear older clothes you're happy to donate to charity via the collection points around the start.
4. Keep Your Race Number Handy
Race-day travel is free for runners who flash their race number on the Underground, Overground, bus network, TfL Rail, DLR and the relevant Southeastern trains to get you to the start line. There will be crowds at many stations on the main routes to the start so don't delay everyone by having to dig your number out every time it's needed.
See related
5. Bring A Negative Lateral Flow Test Result
You will have to show a negative test result to enter the marathon Expo and drop off your kitbag, and the organisers also ask you to take a test on the Friday or Saturday before the race. You may be asked to show proof of a negative result at the start: this can be a text or email on your phone, or you can print off your result if you're racing without your phone.
6. Download The Event Guide
If you are bringing your phone with you, download the London Marathon Event Guide (opens in new tab) before you start travelling. This means if you want to look at it on the way to check something, you won't be relying on the same cellular service 40,000 panicked souls are trying to access simultaneously. The instructions contain maps of the start areas and general advice for getting to where you need to be to start on time.
Sign up for workout ideas, training advice, the latest gear and more.
Thank you for signing up to Coach. You will receive a verification email shortly.
There was a problem. Please refresh the page and try again.