Don't Stress! How To Salvage Stalled Marathon Training
By Nick Harris-Fry published
Seven weeks to go and you're stuck at 10km? Here's how to rescue your marathon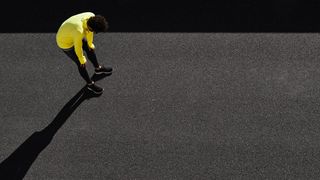 (Image credit: Unknown)
The start of a marathon training plan is a time of great hope. All your runs are laid out ahead of you and it seems like simplicity itself to follow the gradual progression up to marathon distance.
A few weeks in, though, you may find the picture has changed. You've struggled to find the time to run, you've missed training sessions and your longest run still stands resolutely at 10km when you're meant to be hitting 20km-plus.
It's a problem that Coach's Marc Gadian, who got his London Marathon place through Lucozade Sport, was facing. Despite fitting in three weekly runs around family and work commitments, Marc's longest run stood at 10km seven weeks before the marathon, which is considerably longer than 10km (4.22 times longer, to be more precise).
Since many first-time marathoners might be in the same boat, we asked David Howatson, master trainer at Technogym, for advice on how to prepare when your training plan has gone out the window and building up the distance gradually is no longer an option.
How do you increase the distance on long runs if you're knackered after 10km?
"Consistency is key – getting the miles in your legs must be the focus above all else," says Howatson.
"Get the runs in no matter the length of your working day and sacrifice any peripheral activities. For the next few weeks you are a social hermit!
"It's also important to address areas that might be holding you back. Lack of sleep? Poor recovery strategy or diet? There could be a number of things that are limiting the ability to hit longer distances, so pick apart every aspect to find and resolve issues."
The problem might well be psychological rather than, or in addition to, being physical, says Howatson. "Try one run without tracking the distance or planning the exact route – the quantifiable distances may be causing a mental block. Excluding numbers and stats may help break through that 10km barrier. Relax and get an epic playlist to distract you."
If all else fails, break the run down into smaller chunks, and slow down.
"Running to a pace can be much more useful than just working to a set distance. Work out your goal time and understand what that means in terms of minutes per mile or kilometre. This will break up the distance into 26 or 42 single chunks and give you a consistent achievable pace to distract you from the bigger numbers.
"You will inevitably start out too quick, everyone does, so pace it out and go slow. If 10km takes 1hr 20min, so be it. Running a quick 10km won't necessarily help you do the full marathon so don't be afraid to slow right down and walk for a period then go again. It still gets the distance in the legs."
What kind of plan should you follow for the final six or seven weeks?
"Don't stress. Just work to your current 10km and increase it by an achievable distance per session, say 1km or 2km," says Howatson.
"Look at your existing plan and reshape it to be realistic and achievable based on where you are now. If the last seven weeks of the plan are one 20km a week and three 5kms, for example, then break it down to a 10-15km, two 5kms and a swim or a cycle to keep the heart and lungs primed.
"The body will go through peaks and dips throughout a long run so it's also a mental battle. The body will do 42km, be it running, jogging or walking – it will finish.
"The best advice I can give is to be consistent but realistic. If you get home from work and the plan says 15km today but you are tired or lacking motivation then chop it in half, go for 7km and see how you feel. If all else fails, run 10km and walk the rest."
How do you step up the distance now to catch up without getting injured?
"Using the process of mapping the sensations in your body is always useful to help you understand what's 'normal' for you," says Howatson. "It gives you a clear picture of which body parts tire and become sore, and when the pain fades.
"In my long training runs my right knee aches 8km in. It fades and moves to my left hip, then on to my lower back after 20km. If you know how it feels and when the feeling fades, you know what is normal for you, and what is different and might be a developing problem."
A recovery strategy for your runs is now also a must. "Poor recovery and a lack of sleep are your two worst enemies when trying to avoid injury," says Howatson.
"I would highly recommend using a foam roller before running to increase blood flow to the tissues and after a run to rehydrate those tired muscles."
RECOMMENDED: The Foam Roller 101
Getting your nutrition right is also vital. "There is a lot of conflicting advice when it comes to marathon running, but getting the basics right will definitely help," says Howatson.
"If you're running 10km nutrition doesn't need too much thought but when it comes to 20km-40km distances, fuel becomes critical. Increasing carbohydrate intake the day before (carb-loading) is a general rule of thumb, and getting that sugar back into the body during and after the run is also crucial.
RECOMMENDED: What To Eat Before A Run
"To get past the 10km barrier carry water but don't drink too much, just sips as and when needed every 4-5km – too much will bloat you and make you need to pee. If in doubt take some hydration sachets. Some runners use energy gels as well as sweets but it's really down to personal preference outside the elite level."
Dr Ieva Alaunyte, Senior Nutrition Scientist at Lucozade Sport, also highly recommends a good breakfast.
"Fuel your runs with a carbohydrate-rich breakfast. Eat 3-4 hours before the race to ensure the food is digested and you don't feel full at the start. You need to choose tried and tested options, don't experiment. Porridge with bananas, eggs on toast and breakfast cereal with milk are all excellent choices.
"If you can't stomach a full meal, have a carbohydrate-rich snack and then an hour before the event eat a banana, a cereal bar or a gel. Also ensure you start every run hydrated. Drink 350-500ml 3-4 hours before the run, then 125-250ml 45min before the run."
Marc Gadian is running the marathon with Lucozade Sport, the drink on course at the Virgin Money London Marathon. For information on how to win £1,000 towards your chosen charity visit lucozadesport.com/madetomove (opens in new tab)
Sign up for workout ideas, training advice, the latest gear and more.
Thank you for signing up to Coach. You will receive a verification email shortly.
There was a problem. Please refresh the page and try again.