How To Fundraise For Your Marathon
By Joe Warner published
Got a race place through a charity? Step up your sponsorship game with advice from Parkinson's UK's Paul Jackson-Clark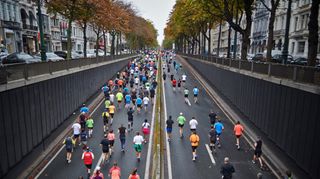 (Image credit: Unknown)
If you, like me and many thousands of amateur pavement pounders, got a place in the London Marathon though a registered charity you'll now be trying to raise as much money as possible for your chosen cause.
My brother and I got our places to raise funds for Parkinson's UK (opens in new tab), a charity close to both our hearts. And if you, like us, want to raise thousands of pounds but are a bit worried about how to find the time to drum up sponsorship alongside all those training runs – not to mention other tasks like, you know, eating, sleeping and going to work – then worry no more.
Paul Jackson-Clark, director of fundraising at Parkinson's UK, knows more than most about the best ways to get people to part with their cash and throw their support behind your efforts.
And he also has first-hand experience of a gruelling charity challenge: last year Paul raised almost £5,000 by cycling up the 1,912m of Mont Ventoux. On a Brompton bicycle. You know the ones – those heavy, sturdy fold-up bikes designed for suburban commuters, rather than for climbing French mountains.
I asked Jackson-Clark for the most common stumbling blocks that prevent inexperienced fundraisers from reaching their target, and then quizzed him for the best ways to increase your sponsorship cash depending on how much time you can dedicate to fundraising.
1. Make It Manageable
"Don't get overwhelmed by what might seem, at first, like an impossible fundraising target," Jackson-Clark says. "Break it down into more achievable, less daunting milestones. And ask for help from family and friends."
2. Stay In The Loop
"Don't forget to keep your supporters and potential supporters updated on your training progress. Email is still the best medium, complemented by social media. And never ignore the chance to remind them why you are taking part in whichever challenge you are undertaking."
3. Find Some Recruits
"Ask your good cause for help – they'll have fundraising guides, posters, social media and expert fundraisers to provide help and support. But don't assume that your cause will be able to mention your fundraising every day. They would if they could, but they might have hundreds or even thousands of fundraisers all doing their thing."
The Right Fundraising Approach For You
The amount of money you ultimately can collect on behalf of your charity has a direct correlation to how much time you can dedicate to fundraising. But follow Jackson-Clark's expert advice below, which is broken down into different approaches depending on how much time you have to maximise the amount of money you can secure for your special cause.
"I don't have much opportunity to fundraise – all my spare time is spent training"
"Get online and make use of one of the big online fundraising platforms such as JustGiving.com (opens in new tab) or uk.virginmoneygiving.com (opens in new tab)," says Jackson-Clark.
"These sites help you spread the word through all your social media channels and inform your good cause that you're fundraising for them, plus they automatically process all your Gift Aid.
"Then tell all your family, mates and colleagues about it. Email is best, and all it needs to be is a short message about what you're doing and which good cause you're fundraising for – with a link or three back to your online fundraising page.
"Then get on your social media accounts and embed a link to your page in your Twitter, Facebook and Instagram bio.
"If your work has an intranet or something similar, find out if and how you can use it to promote what you're doing to your colleagues.
"In short, everything that people see and hear from you for the next few months should provide an opportunity to sponsor you and make a direct donation to your cause."
"I do have some time to spend finding sponsors"
"Once you've got the basics covered online, you can start thinking about how to build on these fundraising foundations. Start giving your supporters updates – photos are great, particularly of early morning sun rises and wet and muddy shoes and gear, to show them the effort you're putting into your training.
"Take a screenshot of the route you've run from Strava or whatever training app you use because people love to see progress and a bit of proof that you're serious never hurts.
RECOMMENDED: Eight Essential Tips For Strava Beginners
"You can even share videos via social media: remember to speak to the camera, fresh faced, before you go training and then when you're finished, less fresh and in need of a hot shower.
"Keep the email going regularly because it'll take even your closest mates at least three messages to spring into sponsorship action, maybe more.
"If you're a member of a gym, running group or other club then pin a poster up on the notice board.
"Finally, find out if your employer does 'matched giving', which means they'll match pound-for-pound the money you raise. It's always worth asking because it can double your efforts in one email or phone call."
"I've got lots of spare time to collect change from people"
"Before you take your fundraising efforts offline and into the real world first make sure you have deployed all the online activity I've already mentioned. There's a good chance you will hit your first fundraising milestone online, which means that you can now focus on bringing in as much sponsorship as possible offline.
"You could throw a fundraising house party if you've the space – chilli nights are always easy and cheap or a BBQ once the weather warms up – and you can charge your guests to attend.
"Even better, check to see if your local pub will dedicate a quiz night to your fundraising, or organise a work pub quiz, perhaps as part of a dress-down day. You don't need many colleagues to give you a fiver before the money really starts to add up.
"Finally, contact your local free newspaper and local radio. Many are keen to get new and original local stories and they can help promote your cause to a new and wide audience."
Joe Warner is the editorial director of Men's Fitness magazine and is running the 2017 Virgin Marathon for Parkinson's UK. You can follow his training on Twitter (opens in new tab) and sponsor him (opens in new tab). Find out more about Parkinson's UK (opens in new tab).
Joe Warner worked for Men's Fitness UK, which predated, and then shared a website with, Coach, from 2008 to 2013, then returned as editor of Men's Fitness UK from 2016 to 2019.
Sign up for workout ideas, training advice, the latest gear and more.
Thank you for signing up to Coach. You will receive a verification email shortly.
There was a problem. Please refresh the page and try again.