This London Marathon Recovery Plan Is Essential Pre-Race Reading
By Nick Harris-Fry published
Your marathon experience isn't over when you cross the finish line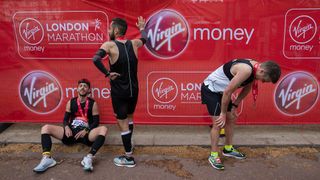 (Image credit: Unknown)
Crossing the finish line of any marathon is a fantastic achievement, and one that marks the end of many months of training and planning. It's a time to relax and celebrate with your friends and family, and you should go ahead and do just that, but bear in mind that there is one more stage of your marathon to go. Fortunately it's the easiest stage of all – the recovery.
Many runners, especially first-time marathoners, will overlook the importance of planning their post-race recovery. If you intend to carry on running after your marathon it's vital to consider what your body needs to get back into a good condition after the race. And even if you have no intention of ever running again, you'll want to minimise the unpleasantness that can arise after pounding pavements for 42.2km.
To help you do just that heed this marathon recovery advice from Kathy Scorer, senior physiotherapist at Nuffield Health (opens in new tab), and Graham Ferris, strength and conditioning coach at Pure Sports Medicine (opens in new tab).
"The final stage of a marathon training plan should always be recovery," says Scorer.
"Recovery is essential for minimising your injury risk, and skipping this vital stage can often inhibit your future performance. Running a marathon puts a huge amount of physical strain on the body, whether it's your first or your tenth. Your immune system will be suffering and your muscles will be severely fatigued."
The first step of your recovery should be to run through a quick check of your body and work out if you've picked up any injuries in the race. There will naturally be some pain and muscle tightness after running that far, but it's important to separate short-term niggles from potential long-term injuries.
"If you've suffered a muscle strain or are feeling pain in a joint, you may need advice or treatment," says Scorer. "If pain or injury persists, listen to your body and get it checked out immediately."
If you have not been struck down with injury, then the next step is to NOT RUN. If you've become used to running regularly during your marathon training you might feel the itch to get back out there, but resist that temptation.
"I often see overuse injuries a couple of weeks after a marathon when runners have tried to get back into training too quickly," says Scorer. "In the first couple of days after the event you shouldn't be doing any running.
"The most common concern that drives people to overtrain too quickly is loss of fitness, but there is little loss of conditioning in the couple of weeks you take off to recover.
"Keep active by doing gentle, low-impact exercise such as walking or swimming to avoid overtaxing yourself."
See related
Marathon Recovery Checklist
After The Race
Keep an eye on your body temperature. Even if it's a mild day you have to be careful not to get too cold. "Get a foil wrap," says Ferris. "Your body temperature rises during exercise and requires the shedding of heat to keep you within an optimal range. Once the race is over, your body is a little slow at switching this auto-regulation down and therefore you continue to lose body heat. The foil retains this heat so you can manage your body temperature."
"Put your feet up for ten minutes – literally," says Scorer. "For example, lie on your back with your legs up against a tree. This will help reduce the build-up of fluid."
Do a warm-down. The idea of more movement after a marathon might fill you with dread, but it's necessary. "Try a gentle jog or walk for five minutes after you have finished the race to help promote blood flow around the body and minimise light-headedness from blood pooling," says Ferris.
Then stretch. "Finish your warm-down with a whole-body stretch to not only release your stiff lower body joints but also help correct any postural ailments accumulated during your run," says Ferris.
Refuel. And don't dilly-dally – you should start snacking straight away. Check the bag you get from marshals at the end of the race for tasty treats. "The ideal post-race snack should contain a 3:1 ratio of carbs (1.4g of carbs per kilogram of bodyweight) to protein (0.4g per kilogram of bodyweight), consumed within 30 minutes of finishing," says Ferris. "Wash this down with an isotonic drink containing salts to top up the fluids lost. Double up with further protein within four hours of the end of the race to aid muscle recovery. Only then should you indulge yourself – do that too early and the recovery process (glycogen synthesis) will be blunted by fats."
"Assess any blisters or injuries," says Scorer. "Make sure the blisters are clean and dry, and if you have any muscle or joint pain, put some ice or cold water on the area for 20 minutes every two hours."
Consider an ice bath. "There are mixed opinions on ice baths," says Ferris. "Some research says that an alternating hot-cold bath – two minutes in each – can aid in blood circulation and help with recovery. What seems to have the strongest anecdotal evidence is the mild pain-relieving effect it can have, which can get you off to sleep the first night after the race. Good-quality sleep can reduce cortisol levels and aids muscle tissue recovery. Try for eight to ten hours a night in the days after your marathon."
Compress yourself. "Compression leggings have been found to improve blood circulation and reduce soreness while you sleep so it might be time to invest in a pair of compression tights," says Ferris. "Try on a few pairs before you buy though because you don't want to be so warm that you can't sleep."
The Next Day
Keep moving. "Avoid being in a static position for too long, apart from when sleeping," says Scorer. Take a 15- to 30-minute walk or a gentle cycle."
"Continue eating balanced meals," says Scorer. Protein, carbs and plenty of veg will help your body recover.
"Gently massage and stretch your calves, hamstrings, glutes and quads," says Scorer. If you're not sure what to do, you can try following a YouTube video of stretches for runners. If you have a foam roller you can try this simple routine, but do it gently.
72 Hours After
"After the first 72 hours you should be over the worst, but that doesn't mean you should start running again," says Scorer. "The earliest you should consider running is seven days after the event, but the optimum recovery time is 14 days. If you can, hold off from running and restrict yourself to low-impact activities instead."
"Start with five to seven days of relative rest and gentle, active recovery," says Ferris. "You want to be mobilising stiff joints that have seized up but avoid stretching any particularly painful areas. Reactive tendinopathy is a common response to increased running – remember you have probably just done 10% longer than your longest training run. That stress to the tendons means they need time to recover, sometimes as long as 12 weeks."
Recovery Products To Consider
You can recover from a marathon without spending a dime on specialist kit, but there are some products that might just make the process a little easier.
Foam roller
We lied about some of the products making things easier, because no-one finishes using a foam roller on their muscles and declares that it was easy, let alone after putting those muscles through a marathon. However, foam rolling can help massage your muscles back to life, so it's worth putting the effort in.
Consider: TriggerPoint Grid Roller
Buy on Amazon (opens in new tab) | £40 | More of the best foam rollers
Massage gun
Massage guns are very expensive and the claimed benefits are yet to really be backed up by a robust body of scientific evidence, but they are an easier and less painful way to massage your muscles than foam rolling, and that is something a lot of runners might appreciate.
Consider: Theragun Prime
Buy from Therabody (opens in new tab) | £275 | Theragun review
Compression tights or socks
Compression tights can keep the blood flowing throughout your entire lower body in the days after a race, but some people find them a bit much to wear for long periods, so a set of socks might work better.
Consider: 2XU Refresh Recovery Compression Tights
Buy men's from 2XU (opens in new tab) | Buy women's from 2XU (opens in new tab) | £95
Consider: Kiprun Running Compression Socks
Buy from Decathlon (opens in new tab) | £19.99 | More of the best compression socks
Recovery shake
If you want a quick way to get as many key nutrients into your body as possible after the race, a recovery shake is a good option. Along with protein, these shakes contain carbohydrates, electrolytes, and vitamins and minerals to refuel your depleted body.
Consider: SiS REGO Rapid Recovery+
Buy from Science In Sport (opens in new tab) | £46 for 1.54kg (currently reduced to £32.20)
Recovery shoes
These plumply cushioned shoes are a genuine treat to slip on at the end of a marathon, especially if you opt for sliders or flip-flops so your beat-up feet can breathe while still being supported by a thick wedge of foam.
Consider: Oofos Ooahh Slider
Buy men's from Oofos (opens in new tab) | Buy women's from Oofos (opens in new tab) | £45 | More of the best recovery shoes
Sign up for workout ideas, training advice, the latest gear and more.
Thank you for signing up to Coach. You will receive a verification email shortly.
There was a problem. Please refresh the page and try again.