Coach Tackles Joe Wicks's 90-Day Shift, Shape And Sustain Plan
By Coach Staff last updated
Joe Wicks puts Coach man Marc Gadian through his paces with this HIIT session from his 90-day plan Shift, Shape And Sustain Plan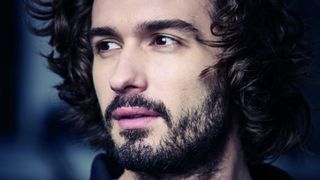 (Image credit: Unknown)
In This Series
Joe Wicks' Fat Loss HIIT Workout
From The Archives: Joe Wicks' 90-Day SSS Plan vs Coach's Waist (2016)
Joe Wicks Vs Coach's Waist
Joe Wicks' 90-day Shift, Shape and Sustain Plan is the hottest fitness ticket in town, thanks to the charm and enthusiasm with which "The Body Coach" lays down his rather severe exercise and nutritional regime.
Coach man Marc "Gadders" Gadian, 44, is married with two kids, and tips the scales at 207lb – a man for whom 90 days of shifting and shaping is no stroll – but in order to test the theory that anyone can do "The Plan", regardless of age or status, Gadders met up with Joe Wicks at the Body Coach HQ.
What's your motivation for doing this?
Gadders: I'm of a certain age, with a lifestyle that makes finding the time to exercise difficult. As anyone with young children will tell you, any plans you might have can go out the window at a moment's notice so I'm very time poor. I'm here, however, to show guys in a similar situation that it can be done. You're going to see a genuinely overweight, unfit guy, who really wants to do it. You might not be running a marathon at the end of it, but you'll be able to do something.
What's the ethos behind the 90-day plan?
Joe: There are so many people out there who think "I'm going to go on this diet, I'm going to cut out alcohol, not socialise, cut out carbs, cut out fats, get down to 1,200 calories [a day]." That just doesn't work. People need to learn that you can eat more, do HIIT training, fit it into your life and it still be fun, and actually get results. It's all about sustainability. If you can cook quick meals that you love, and you can do 15-20 minute workouts, which you can manage, why would you not stick to it?
Can everyone do HIIT training?
Joe: The idea of HIIT, high-intensity, is scary, but it's relative because all you're saying is really work hard for 30 seconds, rest for a minute, and do that 15, 20 times. That is totally scalable. It's totally dependent on the person's fitness.
What have been the early challenges?
Gadders: Cutting out tea and coffee, losing the sugar, which made me a bit irritable and grouchy. Going cold turkey I had headaches for three days. And the first couple of times I went to the gym it took me out for two days, the muscle soreness. Also going out and not drinking. I spoke to Sarah, my Body Coach Support Hero, she was telling me to stick to the tonics, the mixers, rather than beers.
Joe: How many nights a week are you drinking?
Gadders: Now? One, tops.
Joe: Then just naturally you'll get leaner. Just from exercising and cutting out booze, you'll definitely start seeing your body change.
RECOMMENDED: The Best 4-Week Diet Plan (It's No Alcohol)
Gadders: I hope so. There's a lot of change that needs to happen!
Heart Rate Challenge HIIT Workout
In case you thought Gadders is talk, here's video evidence of him putting in work with Wicks.
Anyone can try this HIIT workout, here's the outline. Repeat three times.
Run – 30sec
Rest – 30sec
Bodyweight jump squats – 30sec
Rest – 30sec
Press-ups – 30sec
Rest – 30sec
Mountain climbers – 30sec
Rest – 30sec
Crunches – 30sec
Rest – 30sec
Owners of the Microsoft Band can download the Heart Rate Challenge (opens in new tab) to their device.
Gadders is using the Microsoft Band 2 in his fitness endeavours (microsoft.com (opens in new tab)) and was kitted out in clothes from Gap and Marks & Spencer

Coach is the place to come for all your health, fitness, and personal wellness needs.
Sign up for workout ideas, training advice, the latest gear and more.
Thank you for signing up to Coach. You will receive a verification email shortly.
There was a problem. Please refresh the page and try again.