iGrow blog part 1
By Ben Ince published
MF's Ben Ince is testing a new hair growth product to combat his receding hairline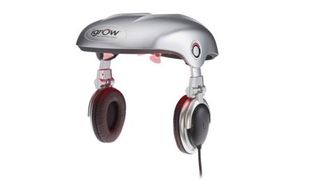 (Image credit: unknown)
Like most guys in their early 30s, in the past few years I've become increasingly aware of the effect the passage of time is having on my body. It takes longer to recover from sports injuries, my hangovers are getting noticeably worse and, like my dad before me, I'm starting to lose my hair.
On the plus side life's far more comfortable, I'm wiser (at least I like to think so) and I'm happily married, so it's not all doom and gloom. But if there was something I could do to fight Father Time and hang on to some of the glories of youth, I'd jump at the chance – especially when it comes to my hairline.
So I decided to try iGrow, a new hair growth product that uses laser technology to improve the natural function of your hair follicles. While I'm far from bald at the moment, my hair is thinning at the sides and around my crown, and I'd rather tackle it now than wait till it becomes significantly more noticeable. After all, prevention is better than cure.
I don't feel desperate enough to opt for a hair transplant or laser therapy at a clinic – not least because these typically cost thousands of pounds. But the iGrow offers a viable alternative that's cheaper at £695, and is also more convenient since you apply it yourself at home. What's more, it's the only commercial hair growth product to be FDA approved in the US, with clinical trials reporting visible positive results in participants after 16 weeks and permanent results after nine months from just three 25-minute sessions a week.
Despite this, I'm not fully convinced yet – maybe it's just natural scepticism, but I find it hard to believe that wearing a helmet that shoots lasers at my scalp a few times a week will solve a problem that's plagued mankind for centuries. But I'm prepared to give it a go, so over the next nine months I'll be putting iGrow's claims to the test and reporting on my progress. The images below are my 'before' shots, so hopefully by my next blog in two months' time you'll be able to see a noticeable difference!
iGrow is available to buy at www.igrowlaser.co.uk (opens in new tab)
Between 2010 and 2016, Ben was the deputy editor of Men's Fitness UK, which predated, and then shared a website with, Coach. Ben also contributed exclusive features to Coach on topics such as football drills, triathlon training plans and healthy eating.
Sign up for workout ideas, training advice, the latest gear and more.
Thank you for signing up to Coach. You will receive a verification email shortly.
There was a problem. Please refresh the page and try again.