Gym of the week: Elements Martial Arts
By Sam Razvi published
This week's Gym of the Week is Elements Martial Arts in Hove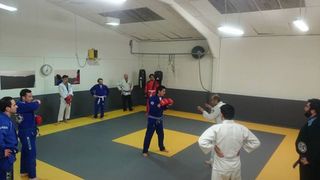 (Image credit: Unknown)
Type of facility: Brazilian jiu jitsu (BJJ) and jeet kune do training gym
Membership costs: A range of monthly membership options from £40 to £80 as well as drop-in rates of £10 per class
Opening hours: Classes run Monday to Saturday, with the earliest at 7.15am and the latest starting at 7pm
Address: 2 b&c Stockwell Lodge, Hove BN3 3LW
Phone: 07958 485864
Website: elementsmartialarts.co.uk
Tucked away in a cosy corner next to Brighton bus station and a stone's throw from Hove train station, Elements Martial Arts is a small gym that's more like a community than a business. A wide range of abilities train under the watchful eyes of black belt jiujitsu and jeet kune do coaches and co-founders Miad Najafi and Yousuf Nabi. We speak with Nabi about what makes Elements Martial Arts such a great place to train.
What's the ethos behind Elements Martial Arts?
We wanted to take the minimalist flavour of a traditional martial arts dojo and combine it with an open-minded approach to training so we created not only a respectable gym, but also a progressive one. The idea being we are never afraid to make changes for the sake of improvement.
Elements is a place where anyone can feel at ease training because of the friendly environment, which we pride ourselves on. While there is respect among our clients and trainers, there is no pecking order and for that reason a wide array of characters and competitors training here.
What made you think a martial arts gym could work in Hove?
There has been a huge surge in popularity for BJJ in recent years. Miad and I were previously teaching at a rented location nearby when we realised the demand was there for a permanent facility. So we bought our own place and matted it out. The high number of members we currently have would suggest we made the right call.
How did you go about recruiting coaches?
Elements is lucky to have numerous skilled students who also teach themselves. We have our own team strength and conditioning coach in Sam Pont of Submission Strength. He trains here as a student and also runs his own S&C session. We also have a brown belt instructor in multi-skilled martial artist, Howard Newton, who takes a morning class for anyone who wants to train before work.
What's the first thing you get beginners to do when they join?
First and foremost, we want beginners to feel welcome. We start by partnering them with people who show them the basic movements and let them settle in at their own pace. Nothing is forced or rushed and we never presume a base level of knowledge. Once a beginner has been coming for at least a week, we let them start sparring.
What makes Elements unique?
It's the only BJJ school with two black-belt instructors. Also, from white belts all the way up to black belt level, our team consistently wins medals at the biggest competitions. It's unusual for somewhere to maintain such a friendly and laid-back vibe while achieving such a high level of competitive success.
What are your future plans for Elements?
We want to continue growing the club and ensure it remains the friendliest and most welcoming club in the area.
Sam Razvi wrote for Men's Fitness UK (which predated and then shared a website with Coach) between 2011 and 2016.
Sign up for workout ideas, training advice, the latest gear and more.
Thank you for signing up to Coach. You will receive a verification email shortly.
There was a problem. Please refresh the page and try again.