Gym of the Week: GymClass
By Sam Rider published
This week's Gym of the Week is GymClass in west London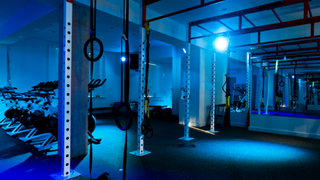 (Image credit: unknown)
Type of facility: A studio-based gym facility offering small intimate classes that give you the effects of personal training with the benefits of group motivation.
Membership costs: A range of membership options as well as drop-in classes and class packages costing from £18 per class.
Opening hours: Monday-Friday 6am-8.30pm, Saturday 8.30am-5pm and Sunday 9am-4.30pm.
Address: 168 Holland Park Avenue, London W11 4UH
Phone: 020 7640 1764
Website: gym-class.co.uk (opens in new tab)
Twitter: @GymClassLondon (opens in new tab)
Instagram: gymclasslondon (opens in new tab)
Among the grand houses of west London and a short sprint from Hyde Park you'll find this unique studio-based training facility. We spoke to GymClass founder Helle Hammonds – a former GymBox, City Athletic and Barry's Bootcamp trainer – to find out more.
What is GymClass?
In a nutshell, GymClass offers a highly motivational, small group training sessions that focus on using research-proven training techniques with our custom-built equipment to create lean, athletic figures.
Why did you set it up?
Through my years as a personal trainer I felt there was a big gap between personal training and group classes. The concept behind GymClass was to merge the very best elements of one-to-one training with the benefits of group motivation.
What kind of Men's Fitness reader would benefit from training at GymClass?
GymClass caters for everyone from beginners to seasoned athletes. Anyone who wants to get into the best shape of their lives would benefit from our classes.
Is fat loss the primary focus of GymClass?
Fat loss is a big part of GymClass, but strength training is also just as important. We don't want our clients to just look amazing, we want them to feel amazing. Part of that is doing functional training to ensure that your body works and moves as it should - the fact that you get a lean, athletic physique is the icing on the cake.
What does GymClass offer that other gyms don't?
We are all about the results. Since every class is different it keeps the body guessing, which ensures results because you never have time to get used to an exercise. We are also a boutique, meaning we have a personal touch. We like to feel we are one big extended family ensuring that everyone feels welcome, no matter their fitness level.
How do your classes differ from the other standard gym classes?
We like to use our gym as a playground, using movements that you might not have used since you were a child and encouraging you to work in teams. Every class is different and could feature anything from working on a punch bag, thrashing battle ropes, flipping tyres or swinging from the monkey bars on our custom-built Beaverfit frame. But most importantly, they're fun.
What does a typical class involve?
Every class includes metabolic training because this is the most efficient way to shred body fat and build lean muscle as well as improving your fitness levels. We also include a strength/skills training element, which focuses on core development and being able to hold your own bodyweight in some capacity, as well as drills to improve your coordination and flexibility.
How do you come up with the programming for each class?
Each day of the week focuses on different areas of the body. We programme weekly in advance to make sure that we have covered all elements within our concept to make sure our GymClassers get the best possible results.
Which is the most popular class?
All of our classes are pretty popular but Saturday mornings at 10.30am are always sold out – you definitely have to plan in advance if you want to come to this class.
What's the first thing you get beginners to do when they join?
We get beginners to go through the basics – a pull-up, press-up and squat – to ensure correct form and also to run through any injuries, concerns or worries they might have.
Are there any kind of athletes (such as bodybuilders or certain sportsmen) that your gym wouldn't cater for?
We feel that our programme is diverse and effective as part of anyone's training routine. We welcome anyone and guarantee that they will get a good workout.
Do you offer nutritional advice as well as workouts for your members?
Definitely. We are a results-driven programme and nutrition is as big a part as the training. Anyone who wants nutrition advice can come and speak to any one of our trainers for help with all their nutritional needs. And we mix up fresh protein smoothies on the spot in our reception to help you recover as soon as you've finished a workout. My two favourites at the moment are the Cheeky Choc Choc (banana, peanut butter, almond milk and chocolate protein) and the Coco Berry (coconut water, blueberries and chocolate protein).
What's the most impressive thing you've ever seen anyone do at your gym?
Every day we see impressive things. We have clients who come who have never done a press-up or pull-up and then two weeks later they are smashing out reps one after another. We are always impressed by how hard our clients push themselves and how quickly their strength and fitness levels improve in just a matter of weeks.
What single thing are you most proud of about the gym?
I'm most proud of the community that we have built already. I think we have hit a niche as we have founded a workout that gives results for both men and women.
What are your future plans for GymClass?
To carry on as we are in delivering this highly motivational results driven programme and to roll out new locations so we're able to reach more people. Location number two is coming in 2015.
Can you give our readers a taste of a typical GymClass workout?
We sometimes finish off a class with this six-station circuit:
1 Chest-to-floor burpee
2 Battle rope slam
3 TRX squat thrust
4 Punch bag work
5 Speed skater
6 Exercise bike sprint
Do two rounds. Round one is 45 seconds on each station, round two is 30 seconds on each. Do non-stop reps on each station and rest a full two minutes between rounds – you'll need it.
Sam Rider is an experienced freelance journalist, specialising in health, fitness and wellness. For over a decade he's reported on Olympic Games, CrossFit Games and World Cups, and quizzed luminaries of elite sport, nutrition and strength and conditioning. Sam is also a REPS level 3 qualified personal trainer, online coach and founder of Your Daily Fix (opens in new tab). Sam is also Coach's designated reviewer of massage guns and fitness mirrors.
Sign up for workout ideas, training advice, the latest gear and more.
Thank you for signing up to Coach. You will receive a verification email shortly.
There was a problem. Please refresh the page and try again.