Olympic canoeist Etienne Stott interview
By Sam Razvi published
MF talks to London 2012 Olympic gold medalist Etienne Stott about Go Canoeing Week and beginner exercises for canoeists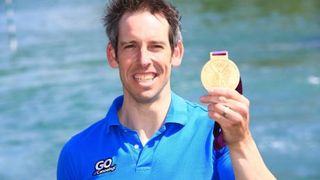 (Image credit: unknown)
It's Go Canoeing Week on 24th May-1st June. What will your role be during that week?
I'll be there to raise the profile of Go Canoeing and canoeing in general. Go Canoeing presents a fantastic opportunity for people to get out and try the sport that I love and I'm trying to get more people interested in it and create a buzz. We are hoping to get people to canoe enough miles to go around the whole circumference of the UK – achieving that would be fantastic.
Is canoeing thriving in the UK following your success at the Olympics? And with the encouragement of Go Canoeing, do you think it can continue to grow?
Having canoeing in the London Olympics was a really great showpiece and the UK is an absolutely fantastic country for canoeing. We've got loads of clubs and loads of volunteers – lots of friendly people who love the sport, have passion for it and want to share it with other people. Hopefully people will join clubs, have a fantastic time and get along with a really great sporting community.
What is the age range of people who take part in canoeing?
Canoeing is a broad and inclusive sport – you get little kids with their parents, you can get old people paddling and even people with disabilities taking part. There are different boats for different types of people. If you go to your local club the volunteers will show you what to do and explain the specifics of the equipment. You don't even have to get wet! You can go touring around looking at the nature or you can do white-water canoeing or you can do competitions – there are so many different options for a wide range of ages and abilities. During Go Canoeing week, you can learn the foundations on how to be safe, how to be comfortable and how to manoeuvre your boat, so this ensures that no matter what age you are you'll be safe and well informed.
What three exercises would you recommend to beginners who want to take up canoeing?
There are a lot of simple things that you can do like bodyweight squats, deadlifts and front and side planks because you need a very strong core. These exercises will build strength all over your body and make you much more powerful when it comes to canoeing.
What's the most important skill for a canoeist – power, strength or speed?
Actually in canoeing, there's not any one element that is the most important. There are so many different styles of canoeing and different ways of paddling and racing down the river. It's important to have a good technique and a sense of comfort on the white water but you also need to be strong and powerful and you need to have the mental skills to cope with the pressure on race day.

How does canoeing differ from kayaking?
Canoeing is when you kneel up with and use a single-bladed paddle and kayaking is when you sit down with your legs out in front of you and you use a double paddle. There is quite a big difference but the skills that you need like the surfing, carving and turning your boat are similar in many ways. I've done both canoeing and kayaking to a high level and I found out that there are similar elements in both sports but most people start off kayaking and gradually progress on to canoeing.
What exercises did you do to prepare for the London 2012 Olympic games?
I did a lot of Olympic lifting in the run-up to the games. That included a variety of cleans, deadlifts and front, back and overhead squats. I also did a lot snatches.
You described winning the gold medal as 'mad' – can you describe how it felt to win it in front of a 12,000-strong home crowd against all odds?
It was an absolutely amazing, once-in-a-lifetime experience. It was amazing to think that this was me doing something that I'd only dreamt about – and sometimes I felt like it was never going to happen – so to find myself living the dream was mindboggling and fantastic. It was such a special day for me, my crew-mate Tim Baillie, for our sport, for Team GB, and for the history of the sport in this country. It was a magnificent occasion and I just feel very, very lucky to have been a part of it and to have been able to contribute to it.
You didn't make it easy for yourself after scraping through in the last qualifying position of the semi-final. What was going through your mind at that point?
The semi-final run didn't really go according to plan, but when we got off and met our coach and he analysed the video, we realised that we were quite fast apart from one big mistake. It was just a case of learning from our mistakes in the semi-final and then trying to improve them and try our best in the final. We worked really well as a team and we were really aggressive and very much in control, and that combination was good enough for us to succeed that day. It was our best competitive run and we were at our best on the greatest day.
Are you competing in any major championships this year?
I'm not competing this year because my team-mate Tim retired and I'm recovering from an injury to my shoulder after I had major surgery on it last August. I didn't make the British team this year because I couldn't contest the trials because of the injury. I'm using this year to recover and find a new crew-mate – hopefully I can get back in condition to start competing ready for next year.
Are you aiming to compete again and defend your title at the Olympic games in Rio 2016?
Yeah, absolutely. For me it will be a great privilege and a great achievement to get to Rio. It has been a tough journey for me in some ways, but the Olympics in Rio is going to be absolutely amazing and having competed in London 2012 I know first-hand just how amazing the Olympics can be. To get to go to another Games would be a dream come true, again, and I will work seriously hard to make sure it happens.
National Go Canoeing Week will be taking place across England between Saturday 24th May and Sunday 1st June 2014. To find out which activities are taking place at a club near you, click here (opens in new tab)
Sam Razvi wrote for Men's Fitness UK (which predated and then shared a website with Coach) between 2011 and 2016.
Sign up for workout ideas, training advice, the latest gear and more.
Thank you for signing up to Coach. You will receive a verification email shortly.
There was a problem. Please refresh the page and try again.