Matt Helliker on alpinism
By Fiona Kirk published
Professional alpinist Matt Helliker talks us through his sport and biggest challenges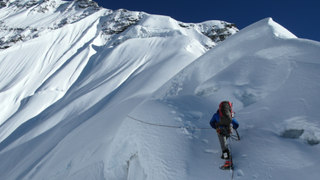 (Image credit: Unknown)
British alpinist Matt Helliker has travelled the world taking on the most dangerous and difficult mountain routes. Ahead of his ascent of an unclimbed peak in China. MF met the Osprey athlete to talk about his sport, his upcoming challenges and how to get involved in alpinism.
What exactly is alpinism?
Alpinism is a combination of all the genres of climbing. It's rock climbing, ice climbing and sport climbing all together on a mountain at high altitude. From a UK perspective alpinism is Scottish winter climbing but on bigger mountains where there are glacial approaches, approaches to be made on foot or even on skis.
What is the most challenging aspect of alpinism?
The hardest thing about the sport is trying to find the ideal conditions to suit what you want to do. A lot of the time, climbs are completely dependant on conditions. Climbing at high altitude is another big challenge – physically, it's really demanding. My passion is for the technically hard routes on big faces where you are getting tired because of the technical aspects of the climb – much better than just walking up a snow plod peak in the Himalayas.
How do you train and prepare for climbs?
With alpinism there isn't just one physical aspect you can concentrate on in training. Cardio-wise you have to be in top condition so there is a lot of hill running, 'skinning' – which is going uphill with skis – and cross-country skiing. To increase strength we do what we call 'dry tooling', climbing on cliffs with your ice axe where it's very steep – it forces you to get a good pump on. There is also plenty of climbing training in the gym, campus boarding, fingerboard work, circuit and interval training.
What is your biggest upcoming challenge?
I have a new objective after finding out the 7,468m East Face of Jannu [in Nepal] is a complete death trap. Instead I'm going over to China, very close to the Tibet border, to attempt a line that is still yet to be successfully climbed. It's a 14,000m base, which means it will be full of mixed types of climbing, and it will be around a five-week expedition. I can't name the peak because there is a lot of hot competition at the moment with climbers trying to conquer the incomplete and I want it to be a surprise. This route hasn't been completed because of the technical difficulty and the really high avalanche risk.
What is the most heart-stopping moment you've had climbing?
There's been a lot. When you are climbing there are always heart-stopping moments – it's part of the adrenaline rush. Every climb has a moment where you think 'That was a bit close' or 'If that slacked off it would have been a bit sketchy'. I try to look at everything in a really calculated way though. I am a control freak when it comes to analysing danger and even if I'm not in complete control, at least I think I am.
One of my biggest challenges was a new route on the Moonflower Buttress in Alaska, where we shot a movie at the same time. It was pretty full-on because we were out on the mountain for six days straight – on less than 2,000 calories. After that trip I had to spend a couple weeks on the sofa to recover.
Trailer of 'Moonflower' - https://www.youtube.com/watch?v=-MOKJ-nnrwk (opens in new tab)
Have you had any major injuries?
I've broken many bones and had plenty of dislocations, mainly through falls. To be honest, as a full-time climber you always have injuries. At the moment my elbows are really bad and the tendons in my fingers are really snappy but you've got to just climb through it.
What climb are you proudest of?
I've been doing quite a few things recently in the European Alps and trying some new routes on the Italian side of Mont Blanc. I'm proud of all of those climbs because they all come as a surprise to people. Everyone thinks all the European mountains are climbed-out but we found a way to do something new and put the technical standards up. Ten years ago the climbs would have been thought to be impossible but now we've made them possible.
What do you enjoy most about the sport?
It's the element of constant new challenges. You come back down from a climb and literally the next day you are thinking about what challenge is next. Even if you perceive an objective as the ultimate test, as soon as you've done it it's like flipping a switch and you want to do a new challenge. To me it's a lifestyle, its not a job or a hobby. It's all I have ever done and will ever do.
What's your best advice for people looking to get into the sport?
Start with indoor climbing and get used to how that feels because although climbing is partly about strength and cardio fitness, the most important thing is to understand the feel of it. Then you can progress from the climbing wall on to climbing outside at mountain centres. The next step to take that forward is looking at winter walking and climbing in Scotland, then hire a guide and look towards the Alps.
Interview written and conducted by Liam Curtis.
Sign up for workout ideas, training advice, the latest gear and more.
Thank you for signing up to Coach. You will receive a verification email shortly.
There was a problem. Please refresh the page and try again.