Jake Blauvelt interview
By Nick Hutchings published
We speak to pro backcountry snowboarder Jake Blauvelt about fitness, fails and filming for his epic new movie Naturally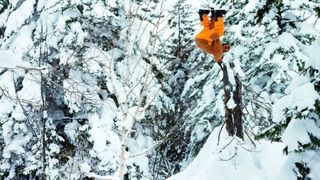 (Image credit: unknown)
Snowboarder Jake Blauvelt is one of the world's most innovative backcountry snowboarders, equally at home whether he's using off-piste kickers to throw down death-defying double flips or spraying powder on steep pitches. The 27-year-old American spoke to MF about his training, his injuries and his riding philosophy
Snowboarders and skateboarders have never traditionally thought of themselves as athletes. How do you perceive yourself?
I'm an athlete. Snowboarding is coming to a point where you can't just roll out of bed after partying all night and perform well on the mountain. Riders are starting to train more and take things a little more seriously.
How does that manifest itself in your day-to-day life?
I try to get a good amount of sleep and do yoga in the morning before riding. I also hike a lot. Physical training is the only thing about being a pro snowboarder that feels like a job, but it can still be fun – and hey, I get to snowboard as a result of it.
In your movie Naturally, there's a clip of you doing stair runs. Is that normal for you?
We were documenting my recovery process after I dislocated my shoulder. I had to go in for surgery and it was a nine-month recovery so there was a lot of rehab, including general conditioning work. I felt a lot stronger at the end of it.
What's the most gruelling hike you've done?
I've never really done multi-day hikes because we mainly use helicopters and snowmobiles to get to far-flung places. Where my fitness really helps is when we're shooting a trick off a jump and we don't have a snowmobile so I have to keep hiking back up to have another attempt.
What's your snowboarding weakness?
Rails. A lot of the time my edges are sharp to help me turn on ice and harder surfaces so I catch them on rails. That's an aspect of snowboarding that's totally foreign to me, but I still have a massive amount of respect for what the top guys can do on them.
Which trick that you filmed for Naturally took the most work?
A double cork [off-axis spin] I dislocated my shoulder doing in British Columbia, Canada. We were jumping into firm snow so there wasn't much of a cushion. During one botched attempt I put my back arm down and my shoulder popped out. I had to go into surgery, it took nine months to fix and I was thinking about that one double cork the whole time. We managed to get back up to BC a year later and I stomped it first try! I think all the visualisation I did while recovering helped.
What's the next big project you're working on?
The Mountain Light Project (themountainlightproject.org (opens in new tab)), which I'm doing with my fiancée. It basically provides funding for kids and young adults to participate in mountain-based sports and education programmes. A lot of kids love snowboarding but they don't have the opportunity to pursue it, so we're trying to help them.
Jake Blauvelt is sponsored by Oakley, visit uk.oakley.com (opens in new tab) for more information
Nick Hutchings worked for Men's Fitness UK, which predated, and then shared a website with, Coach. Nick worked as digital editor from 2008 to 2011, head of content until 2014, and finally editor-in-chief until 2015.
Sign up for workout ideas, training advice, the latest gear and more.
Thank you for signing up to Coach. You will receive a verification email shortly.
There was a problem. Please refresh the page and try again.