Sir Ian Botham on the Ashes: why England will win 5-0
By Nick Callow last updated
Sir Ian Botham gives his Ashes predictions and tells us about his charity involvements since his record-breaking cricket careeer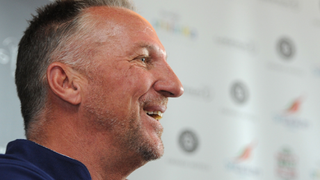 (Image credit: Unknown)
Former England cricket star and veteran charity fundraiser Ian Botham walked 257km across Sri Lanka at the start of November to raise funds and awareness for the victims of both the 2004 tsunami and the war in the country. He was accompanied by sportsmen including Sri Lanka cricketers Muttiah Muralitharan, Kumar Sangakkara and Mahela Jayawardene, South African rugby international Morné du Plessis and Aussie cricket legends Steve Waugh and Allan Border. MF spoke to him about what drives a sporting icon to put his body on the line at 57 and his bullish predictions for England down under.
What inspired you to take on this challenge in Sri Lanka?
The tsunami of 2004 devastated parts of this country. It killed 35,000 people and displaced over half a million. I went to Sri Lanka on behalf of Laureus Sport For Good Foundation, to assess the situation and I saw how the creation of a sports-based project in the town of Seenigama could help rebuild the community.
I heard so many heartbreaking stories. I met a woman who had been clinging to her children from high in a tree and had to decide which one to let go or all three of them would have died. I got in touch with my friend Kushil Gunasekera, founder of the Foundation of Goodness, and ultimately ended up walking the length of the country to raise money and awareness for the causes.
Along with Laureus and the Foundation of Goodness, I'm aiming to replicate the success of Seenigama in the north of the island where they have even less infrastructure and are suffering from the impact of the war.
How do you prepare physically for a trip such as this?
I look after myself reasonably well anyway, but I started specific training in May, six months ahead of the walk. I am fairly fit these days – I've been walking since the 80s – but this time I prepared harder than ever and reckon I have not been so fit for about 30 years. At 57, that's saying something! In short, it is a lot of walking and not taking many days off. Sometimes my wife and I would be up and walking at 6am to make sure we got some training in if we had a busy day ahead. I also had a lot of guidance from Dave 'Rooster' Roberts, who was the England cricket physio – he now looks after Lancashire – and has kept me in shape for all of my walks. We have Nick Turner, my 'number two', on board too and he is a great asset to the team.
What about nutrition? Is there anything special you have to do?
I do watch what I eat and drink when I'm training, and am lucky in that I have never had a particularly sweet tooth. Curry is another matter and the hotter the better, so I loved the food in Sri Lanka. I can't think of much I will give up my red wine for, though.
How difficult was this walk among all those you've done?
This was my 16th charity walk and possibly the most challenging because we were walking in heats in excess of 40˚C with humidity above 80%. We spread the 260km over eight days and it seemed to get hotter every day. The key things are to prepare well – Rooster bandages my feet, tends to the odd blister and stretches me into shape [see pic, above] – and then to recover in the correct way. That is largely cooling down, regulating the radiator and rehydrating properly. I find a nip or two of whisky in the evening helps too.
Is your approach to fitness different now than when you were playing?
Very different. I used to get through just on playing cricket when I was a player and that worked well for me. I played others sports too, like football, and never worried about specific training regimes or watching my diet too much.
What is the England team's approach to fitness like now, compared with when you played for England?
It is radically different. I have to say I think they overtrain and put too much stress on their bodies because there always seems to be injury problems these days. I think there is a danger in modern sport of overdoing the sports science side of things and pushing the body too far.
What do you think England's prospects are in the Ashes series this winter?
I am predicting a convincing 5-0 win for England. It would have been the same score in the summer in England had the Aussies not been saved by the rain and I think conditions will suit us better down under. Some people have been questioning me over this but Glenn McGrath and Shane Warne always predicted the Aussies would win easily, so now it's my turn to give them some stick. I am sure the England players will not let me down. My old mates Allan Border and Steve 'Tugga' Waugh were telling me the Aussies can do it – I think the Sri Lanka sun got to them.
Can you tell us any stories from when you were on Ashes tours?
I believe in the old saying 'what goes on tour stays on tour' so I am not going to betray any confidences here. But I always enjoyed visiting Australia and we had some good times on and off the pitch. I love baiting the Aussies, just as they love giving it to us and I wouldn't expect anything less. I hear Warne's been knocking us in the build-up again and I say 'bring it on'. They have got more to worry about than we do and that is probably why they are being so vocal, to try and unsettle us.
My favourite tour as a player was the 1986-87 Ashes. We had been written off by the respected cricket journalist Martin Johnson who said, 'England have only three problems – they can't bat, they can't bowl and they can't field'. So to win that series so convincingly and play so well gave me a lot of satisfaction.
For further details of Botham's walk visit The Laureus Sport for Good (opens in new tab)Foundation (opens in new tab), Just Giving (opens in new tab) and Unconditional Passion (opens in new tab).
Photos courtesy of Laureus.
Sign up for workout ideas, training advice, the latest gear and more.
Thank you for signing up to Coach. You will receive a verification email shortly.
There was a problem. Please refresh the page and try again.