Wieger van Wageningen interview
By Nick Hutchings published
The Nike-sponsored skateboarder Wieger van Wageningen on skating in London and failing to nail tricks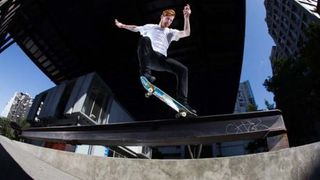 (Image credit: unknown)
What Nike skate model do you normally wear?
The Stefan Janoski. I like the sole, its lightness and grip. I'm a big fan of the suede ones, but the grip of the sole is the main reason I skate in them.
Have you skated in the Brian Anderson shoe? It's a bit bulkier.
Yeah, it's good! It feels different, of course. It's good for impact, so it's an amazing shoe if you skate stairs or higher things because of the protection it gives the heel.
How do you approach bigger stuff out of your comfort zone, like a bigger rail or a big set of stairs?
I don't skate super big rails, but if I am skating something big I just try to shut off my mind. If you think about it too much, then you're making yourself nervous, so you're going to make mistakes. The best thing is just to go for it.
Have you had tricks for video parts that you've tried over and over but not been able to get?
Yeah, about 60% of them! There's a big list of them that I have and want to go back to get. You get angry for about 15 minutes afterwards, but ever since I've been skating I've always tried to pull off harder tricks than I can actually do. You learn how to deal with it, but you still get angry. I had a trick that I was trying to learn for three hours a day, five days straight. I must have attempted it a ridiculous amount of times, like over 700 tries. It was the last day of filming for the video and I almost had it. I still want to go back to it, though. It's a backside tailslide, 270 heelflip out.
When you're doing flip-in and flip-out tricks, how do you approach it? What part of it are you thinking about as you go in?
That's why they take so long to learn, you're thinking about lots of different things. Usually when you're trying to backtail, it's easy, but when you're trying a backtail shoveit, you don't even get into the backtail! Again, I think to shut off your mind is the best thing to do.
What are your skate plans in terms of filming over the next six months to a year?
We're working on an Enjoi video for fall next year. I've done about 30% per cent of my parts for it, so I've got a lot to do for it still.
Are you planning on doing things differently for it, or skating different things?
Maybe not different things, but definitely different tricks, for sure. I always try to do things that people have never seen before. I try to do different tricks rather than different obstacles.
What's your experience of skating in London?
It's great: good scene, good people. The ground's a bit rough, but there are some good spots. It's kind of hard to skate here, because it's so big. You have to take the train and travel around a lot, so you can only skate two or three spots a day, but it's been good; there are a couple of tricks I want to do here. I really like those big blocks that go out onto rails. They're unique to London so I want to master them while I'm here.
Nick Hutchings worked for Men's Fitness UK, which predated, and then shared a website with, Coach. Nick worked as digital editor from 2008 to 2011, head of content until 2014, and finally editor-in-chief until 2015.
Sign up for workout ideas, training advice, the latest gear and more.
Thank you for signing up to Coach. You will receive a verification email shortly.
There was a problem. Please refresh the page and try again.