Best mountain climbs in the world
By Coach Staff last updated
Veteran mountaineer Mark Lewis shares his favourite climbs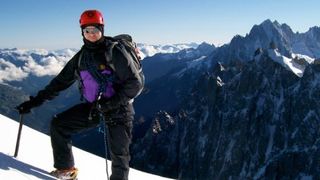 (Image credit: Unknown)
Welsh mountaineer Mark Lewis has done it all. In his 20-year career, he's climbed Everest and K2, logged a first ascent of Workman Peak in Pakistan and climbed mountains in Antarctica. Here, he talks us through his favourite climbs.
Mount Vinson, Antarctica
'Travelling to Antarctica was a huge challenge, but the beauty of the vast frozen wasteland was mind-blowing. It was a major achievement to reach the summit of Vinson – I was the youngest person in the world at the time and the first ever Welshman to accomplish it.'
Broad Peak, Pakistan/China border
'As the world's 12th highest mountain, this was going to be a tough one. With a sick climbing partner, a dying cook and extreme weather conditions that created many avalanches, -40˚C temperatures and bad communications, reaching the summit was a phenomenal achievement and my first summit over 8,000m.'
Mount Everest, Nepal
'Organising and running an expedition to the world's highest mountain was always going to be challenging. With atrocious weather conditions, bringing deep snow and buried camp sites, we turned the conditions to our favour and rallied as a team. The joy of this expedition was managing the teams successes against the odds.'
Workman Peak, Pakistan
'Workman Peak is located in what is known as the third pole, Snowlake. This turned into a battle for survival when one of the team died on the mountain, forcing a major rescue and testing all of my medical skills to try and save her, as an added bonus the remainder of the team climbed the mountain.'
Kilimanjaro, Tanzania
'I love Kilimanjaro and have climbed it dozens of times with groups for charity. Being asked to take Tony Pulis, David Seaman, Nick Hancock and others to the top of Kilimanjaro as a celebrity charity challenge was going to be a challenge in itself. And their grit, teamwork and determination certainly kicked in when on the summit we got caught in the worst storm on the mountain for five years.'
Coach is the place to come for all your health, fitness, and personal wellness needs.
Sign up for workout ideas, training advice, the latest gear and more.
Thank you for signing up to Coach. You will receive a verification email shortly.
There was a problem. Please refresh the page and try again.