The UK's best fitness spa breaks
By Nick Hutchings last updated
Discover the UK's best spa breaks to recharge body and mind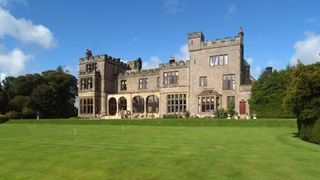 (Image credit: unknown)
Tough week in the office and the gym? Reward yourself with one of these luxurious spa weekend breaks to relax and recharge your batteries.
How to get there The nearest station is Penrith. Virgin trains run a service from London Euston. Visit virgintrains.co.uk. From Penrith it's a £45 taxi to the hotel. If you're driving, turn off the M6 at Penrith and the postcode is CA12 4RE.
The spa Traditional, restorative, serene (pictured above)
Armathwaite Hall's set-up is impressive, with a 16m infinity edge pool that overlooks the lush gardens, an outdoor hot tub and ten treatment rooms, including a couples' room with a whirlpool bath. There's also a steam room, sauna and, if you're in particular need of de-stressing, a tranquility room overlooking the fells.
My treatment Comfort Touch Full Body Massage, 60 minutes, £67, plus deep tissue massage, 60 minutes, £75
Our experience was a tale of two massages. While one of us opted for the tranquility of a Comfort Touch option, the other embraced the firm grip of a deep tissue session. Both were delivered with skill, so the one you select should reflect the week you've just had: if you've been stuck in stressful meetings then you want the former, while if you've been stuck under a heavy bar you'd be advised to let your muscles recover with the tough love of a deep tissue treatment.
We're happy to report that the Armathwaite Hall team give a proper deep tissue experience. It hurt. A lot. But in a good way; that perversely satisfying way that makes you feel like every muscle fibre has been separated, sorted and returned to it's rightful place and length.
While it's not strictly connected to the spa, it's worth mentioning the quality of the food in the hotel restaurant. All of the meat, including the tender fell-bred lamb, is locally sourced – as is the indulgent cheese selection. So if you want to use the trip as a way of recovering from your training efforts, top up your protein levels with a meal overlooking Bassenthwaite lake. We'll even forgive you if you have the mini toffee apple dessert.
The gym Armathwaite Hall has what you need for a decent workout while on a break. There are cardio machines and a range of dumbbells. It isn't an opportunity to go super-heavy, but if you're here to relax then maybe it's a good chance to work on movement and mobility. They also offer PT sessions and fitness assessments if you want some expert assistance.
The verdict This is the perfect place to cocoon yourself from the stress and hustle of city life. Our suggestion is that you spend time in the spa before heading out for a restorative walk across the rugged hills. Then come back and tuck into exquisitely cooked, locally sourced meat for dinner, washed down with some antioxidant-rich red wine. Cheers!
How to get there The nearest station is Berkhamsted, which is a ten-minute taxi from the spa. If you're driving, it's close to the M1, M25 and M40 – enter HP23 6HX into your satnav.
The spa Modern, minimalist and tranquil
The spa contains everything you'd expect: sauna, steam room, plunge pool, swimming pool and Jacuzzi. The highlight is the outdoor hot tub, which is well worth braving a quick dash through the impressive English country garden so soak under the sun.
The treatment Bamboo massage, 55mins, £65
After disrobing and lying down on the comfy massage table I was just about ready to switch off and relax until the masseuse nipped out to 'go and get the sticks'. Surely she meant incense, right? Wrong, as I discovered when she came back in with a bundle of bamboo sticks under her right arm, all various lengths and girths. 'This is a brand new treatment,' she said. I hoped I wasn't the guinea pig.
The theory goes that having your muscles 'rolled' out with bamboo sticks releases muscle tension and tightness, improves flexibility and kick-starts circulation to aid detoxification of the body. This was a massage of two halves: having my back, chest and arms slowly rolled was great and I could feel the tension ebb out of my muscles. But having panda food rolled back and forth over my calves and hamstrings was another matter, mainly because I had done a legs session the previous days and was already suffering from some serious DOMS. That said, I felt much lighter on my feet in the hours after the treatment so it clearly worked.
The gym The resort boasts a fully equipped gym complete with a decent variety of cardiovascular machines and good selection of free weights, so you can work out to your heart's content, provided you want to get out of the hot tub. There's also a huge list of additional fitness and wellbeing classes and packages to choose from, ranging from a PT session to a complete hormonal and body composition analysis.
The verdict Champneys Tring is a great facility for a relaxing and unwinding break. It has everything you need to switch off for a few days and I came back feeling energised and like I'd been away from work for a week.
How to get there Lifehouse is located in Thorpe-le-Soken in Essex, close to the seaside town of Frinton-on-Sea. Regular trains run from London Liverpool to Street to Thorpe-le-Soken, with an average journey time of 1hr 20min. If you're travelling by car from London or the South, take the A12 exit off the M25, signposted for Chelmsford and Colchester, and then join the A120 for Clacton. From the Midlands and the North, follow the A14 until you're south of Ipswich.
The spa Spacious, chilled, minimalist
Surrounded by 12 acres of beautiful English Heritage gardens, Lifehouse has a very modern feel, thanks to its minimalist design and spacious interiors. The pool area features a sauna, steam room, Jacuzzi and salt inhalation room to help you unwind, while the restaurant offers incredibly healthy and indulgent food depending on your preference, all prepared to the highest standard. As you would expect from a spa that focuses on health and wellbeing, it also offers a wide variety of fitness classes and treatments for body and mind.

My treatment I had an incredibly relaxing 55-minute full-body massage. The masseur did an excellent job working on problem areas such as my shoulders and hamstrings where I tend to suffer from muscle tightness, being sufficiently firm without causing any unnecessary pain. I left the treatment feeling relaxed, loose and light on my feet.
The gym While it lacks some of the essential items you'd need for performing big lifts – there's no squat rack or Olympic bars – the gym is equipped with dumbbells, benches, TRX suspension systems, ViPRs and a host of additional fitness kit that you can use to create a workout. You can also book a one-to-one session with personal trainer Steve Oldhamstead (train-where-you-want.com).
The verdict The service, rooms, facilities, food and general ambience are all fantastic. It's the perfect place to take your partner for a relaxing break.
How to get there The nearest station is Slough, a ten-minute taxi from the spa. Drivers should take the M4 or M40 and the postcode is SL2 4PG.
The spa Relaxed, cosy and restorative
Across the driveway from the stately hotel is the contemporary Pavilion, which houses Stoke Park's spa. Inside is a peaceful private atrium catered with nutritious fruit and nuts and a vast tropical aquarium helping you leave your stresses behind while you await your treatment. There is also a sauna and steam room but you can only access them via your changing room, so you can't share the experience with your partner. The indoor heated swimming pool was full of noisy children when we wanted to go for a dip so select the time of your visit carefully.
My treatment Hot stone massage, 55 minutes, £90
With muscle soreness and achy joints a by-product of daily training I was looking for a massage to restore rather than just relax my aching body. There are dozens of options available but I was recommended the hot stone treatment, which uses heat to provide a more effective massage. Warmth comes from smooth stones that are heated to 57˚C. As they are rubbed and pressed firmly against the skin the warmth spreads through your muscles and helps the massage penetrate deeper to multiply the effect of a hand massage. I went in cautiously but after several minutes of being gently cooked by large pebbles I was at ease enough for my worries to fade away.
After the treatment I was led to a 'deep relaxation room' with heated seats to lie on. Previously I hadn't been sleeping well but the massage had clearly done the trick. As soon as got comfy I was drifting off to a light snooze. Overall you'd need something a bit more aggressive like a sports massage to fully alleviate muscle soreness from training but the hot stones are perfect at melting away tension and stress.
The gym The Pavilion's two-tiered gym includes free and fixed weights machines, cardio trainers, an endurance-blasting versa climber, heavy punch bag and even an Olympic lifting platform – although this is frustrating set on the first floor and dropping the weights is discouraged. There are also top-class indoor and outdoor tennis courts because Stoke Park hosts the annual Boodles Charity pre-Wimbledon tennis tournament. Finally you can enjoy the pristine 27-hole championship golf course. Make sure you play the 18th hole – made famous by Sean Connery's James Bond and his classic golfing duel in the 1964 007 movie Goldfinger.
The verdict An indulgent escape from the chaos of urban life fit for a king or Hollywood movie star. Don't miss out on dining at the sumptuous Humphry's restaurant, which has three AA Rosettes. I recommend the delicious starter of scallops and main of halibut risotto with artichokes – beats a protein shake any day.
How to get there The nearest station is Blackburn, a short taxi ride from the spa. If you're travelling from the south it is easier to go to Preston, which is still only minutes away. It's also within quarter of an hour of the M6 and M55 and your satnav needs the postcode BB2 7NP.
The spa Luxurious, bright, ethereal The main pool and Jacuzzi are housed behind large glass walls, which allows a lot of natural light through to give the spa an ethereal feel, especially when the sun is shining over the green hills of the Lancashire countryside. The heat treatment rooms are spacious, giving you space to stretch out, relax and let the heat work wonders on your mind and body. There are also recliners and ice showers so you chill out between heating up, allowing you to make the most of your stay.
My treatment Deep tissue massage, 55min, £55
More often than not, deep tissue massages hurt as they release tension and un-knot your tight and troubled muscles. But this was the most relaxing and enjoyable deep massage I've had. A combination of warming oils and massage techniques quickly released all the built-up muscular tension, especially in my shoulders, upper back and quads, but without the feel of being kneed like bread dough. I felt so relaxed as the tension left my body that I actually nodded off. Considering I'm not a huge fan of massages, this is praise indeed.
The gym Like the spa, the gym is encased in glass walls to bring the great outdoors to you when you want to get in a quick workout. It's an inspiring way to train and beats watching music videos on loop on a TV. There are plenty of cardio machines if you want to send your heart rate soaring, plus enough decent-sized weights to put your newly-relaxed and tension-free muscles to the test.
The verdict A superb facility in the heart of the countryside where you can forget your troubles and focus on looking and feeling fitter, happier and healthier. The spa and treatments are top-notch, while the restaurant served one of the best meals I have ever had. If you are looking for a weekend escape to unwind, relax and gain some perspective on the world, this is the place.
How to get there Haywards Heath station – 20 minutes from Brighton or 50 minutes from London Victoria – is a short cab ride away. If you're driving, turn off the M25 at the M23 and once you reach the A23, follow signs for Cuckfield or simply use the postcode RH17 5LD in your satnav.
The spa Ultra-modern comfort in beautiful countryside
The spa contains everything you'd expect: a sauna, steam room and hot tub, alongside an impressive rainforest-style walk-through shower and an indoor/outdoor swimming pool that allows you to sample the English sunshine without even leaving the water.
The treatment Deep-tissue massage, 55min, £82.50
Although Ockenden Manor has a cutting-edge range of treatments on offer – including flotation tanks and couples' massage – sometimes the basics are the best, which is why I opted for a classic deep-tissue pummelling. You're consulted about your requirements before the process starts – I went for the 'Do Your Worst' option and though my masseuse was tiny, I wasn't disappointed. After nearly an hour of elbows and fingers jammed into my aching muscles, I rolled off the table feeling like I'd been given an entirely new pair of legs. It was genuinely one of the best massages I've ever had, and that includes having my back leapt on by Shaolin monks.
The gym Assuming you actually want to desert the comforts of the pool – which is longer than most gym ones, incidentally - Ockenden is well equipped with free weights, machines and qualified PTs, alongside a variety of yoga and Pilates classes.
The verdict If you want a weekend break that'll thoroughly reinvigorate you, Ockenden offers a relaxing environment that'll let you forget that you have a job for a couple of days – plus it's within easy reach of millions in the south and southeast of England. Frankly I'd go every weekend if I could.
Thanks to spabreaks.com (opens in new tab)
Nick Hutchings worked for Men's Fitness UK, which predated, and then shared a website with, Coach. Nick worked as digital editor from 2008 to 2011, head of content until 2014, and finally editor-in-chief until 2015.
Sign up for workout ideas, training advice, the latest gear and more.
Thank you for signing up to Coach. You will receive a verification email shortly.
There was a problem. Please refresh the page and try again.