Get in superhero shape
By Joel Snape published
You don't need a radioactive spider bite or a jolt of super-serum to build a heroic body. Here's how to become a superhero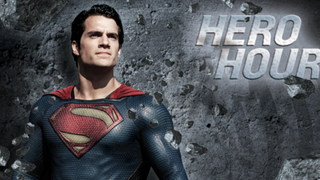 (Image credit: unknown)
In This Series
Get in superhero shape
Get Superman's heroic v-shaped body
If you only see one superhero film this year, let it be Man Of Steel, the reboot of the Superman series starring British actor Henry Cavill as the most recognisable comic character of all time. Cavill got in lean, stripped-down shape for his role in 2011's Immortals, but for Man Of Steel he packed on the muscle befitting the most powerful hero on Earth.
Cavill's secret? Training with Mark Twight, founder of Utah-based Gym Jones, the man behind the chiselled physiques of 300 and a longtime friend of Zack Snyder, the director of both films. 'The task was simple: make an average man look like a superhero and then keep him that way for six months,' says Twight. 'Simple – not easy. Peaking for a few days is one thing. Sustaining the same capability and appearance for half a year is an entirely different problem.'
Early in the process, Cavill said he wanted to look the same in and out of the suit. 'Obviously, appearance is foremost,' says Twight. 'There has never been a superhero who didn't have broad shoulders and a narrow waist. But there's also confidence. Fitness is strength and conditioning but also strength of character.
Self-discipline with training and diet and recovery, alongside the confrontation with physical and psychological challenges, produces self-confidence that cannot be achieved any other way. When you can do 100 front squats at bodyweight and deadlift more than two times bodyweight, you will walk and talk differently – tall and proud.'
And for the star, the programme paid off in spades. 'It's an incredible feeling – there's nothing quite like it,' says Cavill, who is also set to star in the upcoming The Man From U.N.C.L.E. 'At some point it stops being just a training camp and a dream. You see yourself standing there in the suit, with the cape, with the S-glyph on your chest and people are looking at you going, "OK, this is Superman". It's a feeling I'll carry with me for the rest of my life.'
Check out Cavill's Man of Steel workout plan here.
On the next page: Thor, Kick-Ass and Captain America
From 2008 to 2018, Joel worked for Men's Fitness, which predated, and then shared a website with, Coach. Though he spent years running the hills of Bath, he's since ditched his trainers for a succession of Converse high-tops, since they're better suited to his love of pulling vans, lifting cars, and hefting logs in a succession of strongman competitions.
Sign up for workout ideas, training advice, the latest gear and more.
Thank you for signing up to Coach. You will receive a verification email shortly.
There was a problem. Please refresh the page and try again.