Dwayne 'The Rock' Johnson: fat-shredding secrets
By Coach Staff published
An insight into how Dwayne 'The Rock' Johnson got leaner for his role in Fast & Furious 6, plus an exclusive clip of him in action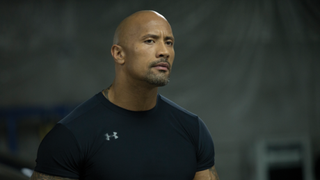 (Image credit: Unknown)
Since making his debut as the fearsome Scorpion King in The Mummy Returns, Dwayne 'The Rock' Johnson has spent the last decade making the tricky transition from WWE wrestler to one of Hollywood's biggest action heroes.
Case in point? When Johnson joined the Fast & Furious franchise as Security Service agent Luke Hobbs in 2011's Fast Five, it was arguably his huge presence that steered the series' fifth installment to a massive $630 million box-office haul.
To play highly trained lawman Hobbs, Johnson wanted his body to look 'tense and hard' – employing trainer Billy Beck to help him shred his body fat. 'It's harder for him to get smaller and leaner,' says Beck. 'He can look at a weight and put an inch on his arms! When he came to me he was around 15% body fat; we did a complete overhaul on his program and cut that by half.'
To achieve this leaner look, Johnson cut out 'complex, starchy carbohydrates' from his diet. 'We had what we called "fire meals",' explains Beck, 'where half the plate is protein like chicken, steak or egg and then the other half is vegetables, with a little bit of olive oil or good fat.'
The actor also allowed Beck to tweak his tried-and-tested training regime, deviating from his usual session plans and body-part splits for more visible results. 'He'd been doing the same split for years,' says Beck. 'But doing that for too long means your body adapts to it, so we changed it. It was a different stimulus, so his body was like, "What the hell, I've got to change again!"'
Thanks to Johnson's dedication, getting back into character for Fast & Furious 6 – which sees Hobbs recruiting Vin Diesel's crew of car thieves to bring down a dangerous mercenary – didn't present too much of a problem. 'Most actors get a role and then start training for it,' Beck says. 'Dwayne isn't like them – he trains all year round, six days per week, usually one to two sessions a day and more than an hour and a half at one time.'
For more of Johnson and Beck's fitness and nutrition tips, look out for the full interview, both on our website and in the December issue of Men's Fitness, on sale October 16th. Fast & Furious 6 is available on Blu-ray and DVD now.
Coach is the place to come for all your health, fitness, and personal wellness needs.
Sign up for workout ideas, training advice, the latest gear and more.
Thank you for signing up to Coach. You will receive a verification email shortly.
There was a problem. Please refresh the page and try again.