Louise Hazel: why I quit heptathlon
By Max Anderton published
The ex-Team GB heptathlete on training without a coach, quitting athletics and her new venture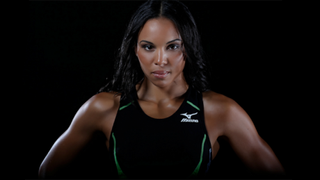 (Image credit: Unknown)
How much encouragement did you receive to pursue athletics when you were younger?
I had a lot of support from my father because he was a distance runner when he was younger. He took me to the local athletics track and encouraged me to participate in a number of different events. Once my school saw me achieve local and county titles they started to really get behind me, support me and recognise me as a sportswoman. At my local club I was recognised as an outstanding athlete, which was a great confidence booster.
What was the hardest moment of your career?
The most challenging moment was training for the 2010 Commonwealth Games. I didn't have a coach at the time so for months I was turning up, training myself, writing my own training programmes and linking up with specialist event coaches to oversee my technical events. It took a lot of determination and a lot of co-ordinating. It was a very tiring progress. I could see my fellow athletes turning up at the tracks and their coach would have written their training programmes for them, so they could go home and not have to think. I wasn't that fortunate. I knew what I wanted to achieve and there were a lot of things I had to do proactively in order to make that happen.
Without a coach, what resources did you use to compose your training plans?
I got friends to film sessions and meet up with other friends for running sessions. I tapped into all the resources and coaching around me. I drove myself up to Loughborough to do shotput sessions with [former UK Athletics heavy throws coach] Bob Weir and javelin sessions with Steve Backley's ex-coach. I made sure that during those sessions somebody was going to be there, even if it was just a friend timing my hurdles. It was very mentally tiring, but well worth it.
What discipline in the heptathlon is your favourite and why?
My favourite is the javelin. It is the one event where I feel I can really express my explosiveness without holding back. My best event has always been the hurdles but the javelin is the one where I feel I can completely let go, and it is definitely the one I would come back to if I decided to get back into athletics as a hobby.
Is there any particular exercise that you found the most effective for improving your performance in all seven events?
It's not really an exercise for improving performance in itself, but the one I felt was indicative of me being in great shape was the Olympic clean. I could lift 70-80kg, with 80kg being my top rep. When you only weigh 55-60 kilos, the ability to shift those kinds of weights tells you your body is in shape, strong and fast.
What is the proudest moment of your career?
The proudest moment has to be winning heptathlon at the Commonwealth Games for England in 2010. The accumulation of all the hard work I'd put in coming together in one day was absolutely amazing. I had a feeling I could do it but when you actually go out there and win it's the most satisfying feeling there is. It's completely and utterly irreplaceable.
You've been an athlete for your whole adult life. What prompted your decision to retire from heptathlon?
I feel like I have given my best to the event, and it's not an easy event to commit to: training is twice a day, six days a week. This year, after the joy of competing in the London 2012 Olympic Games [where Hazel finished 27th], I was faced with the immediate struggles of trying to find sponsorship and endorsement and I fell short of my targets, which made it very difficult for me to stay in a full time training programme. Then I was ill in November last year, and I felt it was time to give my body some time to recover. That's when I started working on my new venture, The Podium Effect®. I'm very fortunate in the sense that while I'm leaving the heptathlon behind, I have completely thrown myself into a new challenge.
Could you explain what The Podium Effect® is?
It's a 60-day online-based training and nutritional programme. A subscription service, subscribers get a 60-day workout programme and a 60-day nutritional programme aimed at helping them get back in shape. Every 60 days the programme changes and they can choose to add on exercises for areas they would lie to work on more – abs or legs, say.
My initial thought was to do a fitness DVD that offered continuity. I wanted the person to experience what it's like to be an athlete, but I also wanted it to be manageable for people with busy lives. A common excuse for not exercising enough is not having the time, but with The Podium Effect® each workout is only 30 minutes, so there's no room for excuses. I think we are all guilty of purchasing a fitness DVD with the hope of shedding Christmas weight, but the way to do that effectively is by doing the right things continuously day in, day out.
Louise Hazel, founder of The Podium Effect® (opens in new tab), is running The British Heart Foundation Blenheim Palace 10k on Sunday 6th October www.justgiving.com/TeamHazel (opens in new tab)
Max was the head of digital content for Men's Fitness which worked alongside Coach between 2015 and 2019.
Sign up for workout ideas, training advice, the latest gear and more.
Thank you for signing up to Coach. You will receive a verification email shortly.
There was a problem. Please refresh the page and try again.