Advertisement Feature
Mountain Bike Trail Centres Make For Great Day Trips Whether You Ride Or Not – Here's How To Get Started
By Coach Staff published
Plan a summer adventure with expert advice about what to expect, what to bring and how to ride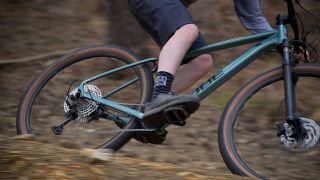 (Image credit: Future)
Everyone knows that riding downhill on a bike is fun. And everyone can guess that cycling on traffic-free trails in the countryside is fun. Those two things alone mean mountain biking is double fun for beginners.
It may seem like a difficult sport to try, but not if you know about the trail centres that are dotted about the UK. These locations offer graded manmade trails along with bike rentals so you can venture out, safe in the knowledge that you have the right kit and won't be greeted by some of the more gnarly obstacles you might encounter on natural trails – unless you want to.
Even if you don't have ambitions to take up the sport, a visit to a trail centre makes for a great day out. Find your nearest one with this guide to the UK's trail centres from Coach's sister title Mountain Bike Rider, then read on for more advice to help you make the most of your first time mountain biking.
What To Bring
If you're hiring a bike and a helmet, there aren't many more things you need. A drink and snacks (think carb-heavy energy bars) will ensure you don't run out of oomph. Since you don't want them bouncing around in a non-sport specific rucksack on your back, a bumbag, if you have one, is ideal. A hydration pack is even better as it will keep everything tight to your body.
If you're bringing your own mountain bike, a helmet is essential, as is the kit for fixing a puncture: so tyre levers, a spare inner tube and a pump, or tubeless plugs if you use tubeless tyres. A multi-tool can also come in handy to make adjustments on the fly.
Finally, don't leave your phone in your car. Not only can you take a snap of the map of the trails to refer to on your ride, but it's essential for getting assistance in an emergency.
What To Ride
Some mountain bikes have suspension at the front and back wheels, but it's a good idea for beginners to start with a hardtail bike where there's only suspension at the front. They're often lighter, so you need to put in less effort to get around the trails, and they have more than enough suspension for beginner trails.
And if you take to mountain biking, a hardtail is a wise first purchase. They tend to be cheaper and easier to maintain, since you're removing some complexity, and often feature superior componentry elsewhere on the bike than similarly priced full-suspension models.
A case in point is the Cube Attention SL with RockShox suspension, Shimano 12-speed gearing, Schwalbe tyres and flat-mount disc brakes. The front suspension can be locked out for road riding, and with mounts for kickstands, mudguards and pannier racks, it can be transformed into a workhorse commuter bike. Aficionados, too, will find plenty to like in the attention to detail, and there's an option to upgrade to a dropper seat, which connects to a button on your handlebars to raise and lower your seat in a jiffy.
How To Ride
There is very much a right way to ride, and that's the right way round. All trail centres are one-way, so make sure you're following the direction of traffic. It's also worth beginning with the easiest grade if you're a first-timer, or a grade below what you normally ride if you're at a new trail centre.
From easiest to hardest, trails are colour-coded green, blue, red and black. The green ones will be flat and won't have any tricky obstacles and they're a great way to get used to handling a mountain bike.
A blue trail will add a few ups and downs, and some challenging features, but confident road riders should be able to roll through these trails without any difficulty.
Once you get up to red you'll be expected to have a greater degree of experience and be able to recognise technical obstacles and manage your speed accordingly. Black is not for the faint-hearted.
If you're cycling along a straight, flat section, or uphill, lock out the suspension and have the saddle at hip height to make it easier to cover distance quickly, but if you're facing a downhill with obstacles, unlock the suspension and lower the saddle so you have more room to move around on the bike.
Coach is the place to come for all your health, fitness, and personal wellness needs.
Sign up for workout ideas, training advice, the latest gear and more.
Thank you for signing up to Coach. You will receive a verification email shortly.
There was a problem. Please refresh the page and try again.