Getting Started With Climbing In The Lake District
By Vikki Hughes published
Get help with booking your first climbing adventure in England's largest national park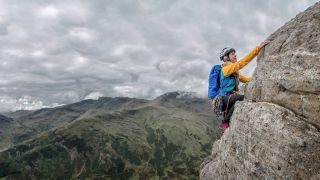 (Image credit: Getty Images / Westend61)
For anyone thinking of going on their first UK climbing break, where better than the place that started it all? Rock climbing originated with Victorian mountaineers who developed the skills needed to ascend and cross rocky mountain faces in their bid to conquer the great European peaks. The sport came about as an offshoot of this and the first recorded rock climb in the UK was an ascent of the Lake District's Napes Needle in 1866.
The Lake District is best known in the climbing world for its abundance of multi-pitch mountain routes (opens in new tab). "If you're in need of some guidance, you'll easily be able to hire an instructor to show you the ropes (literally). As well as guiding you around some of the best multi-pitch locations they'll also be able to teach you the necessary skills to make the jump (not literally).
It's also a great area for indoor climbers to make their first foray into the outdoors. Just be prepared for a decent walk into the mountains and be sure to pack accordingly. As well as climbing kit, you'll need a good pair of walking shoes, waterproofs, warm clothes, plenty of liquid and some snacks. If you book an instructor they'll discuss climbing kit with you and should be able to sort you out with anything you're missing.
Picking Your Route
A day climbing in the mountains on a classic route is hard to beat. There are some great days out in the Borrowdale valley, with Little Chamonix (opens in new tab) a perfect first multi-pitch route. Dow Crag in the Coniston Fells is another good option, and there are plenty of options around Langdale as well. Or you could just opt for the pioneering route at Napes Needle.
For a detailed overview of the best multi-pitch routes to try, we suggest picking up a copy of Classic Rock (opens in new tab) by Ken Wilson.
Booking An Instructor
If you're planning to book a guide or instructor for a multi-pitch route, aim to use someone who is registered with the Association of Mountaineering Instructors (AMI) (opens in new tab) or British Mountain Guides (opens in new tab). Doing this ensures you'll be hiring an instructor or guide who is well qualified and has the right skills to make sure you enjoy your day out safely. It also means they will have appropriate insurance.
Climbing Festivals In The Lake District
Climbing festivals offer a great way to explore a local area and enable you to access experts and guides who can supply you with knowledge on everything from improving your climbing to buying new kit. They're also ideal if you want to find inspiration for your trip or enjoy a few rest days between activities.
Kendal Mountain Festival (opens in new tab) and Keswick Mountain Festival (opens in new tab) are both great opportunities to watch films about the outdoors, hear talks on mountain adventures, and check out products from outdoor clothing manufacturers.
The Arc'teryx Academy weekend (opens in new tab) is another event worth attending. As well as films, food, music and the chance to demo some climbing kit, the weekend provides skills training. This covers everything from introductory rock climbing and multi-pitch sessions to learning to lead, rescue skills and scrambling. All training is provided by the International School of Mountaineering (opens in new tab) and is heavily subsidised by Arc'teryx, meaning you'll get first-class tuition at a great price. Spend a couple of days skilling up and then get straight on to the crag to put your learning into practice.
Where To Eat And Drink In The Lake District
The Lake District is one of the best places in the UK for food and drink, whether that's at the end of a long day on the mountains, or long leisurely lunches to pass the time if the weather hits hard and you need to kill a day or two.
Some of our favourite options for food in the Lake District include The Round (opens in new tab) in Keswick, Kysty (opens in new tab) in Ambleside for breakfast, Rattle Ghyll Deli (opens in new tab) in Ambleside for snacks and sandwiches, and Sticklebarn National Trust café (opens in new tab) if you're in Langdale.
For drinks, we suggest Hawkshead Brewery (opens in new tab) in Staveley, The Old Dungeon Ghyll (opens in new tab) in Langdale, The Drunken Duck (opens in new tab) and The Golden Rule (opens in new tab) in Ambleside, and The Sun (opens in new tab) in Coniston.
Places To Buy New Kit In The Lake District
As you can imagine, there's no shortage of places to pick up some new outdoor equipment and clothing in the Lake District. Our recommendations are Needle Sports (opens in new tab) in Keswick and The Climbers Shop (opens in new tab) in Ambleside, which are superbly stocked and have knowledgeable and helpful staff.
Things To Do If Your Climb Is Called Off
Let's be realistic, the weather doesn't care about your plans or what season it is. It's well worth having a few back-up activities ready so you can still make the best of your trip.
If you absolutely have to do some climbing on your climbing holiday – and who would blame you? – there are some great climbing walls in the Lakes. Our favourite locations are Kendal Wall (opens in new tab), the bouldering venue in Ulverston (opens in new tab), and Kong (opens in new tab) at Keswick.
And if you fancy a break from climbing, why not give outdoor swimming a go? Suzanna Swims (opens in new tab) offers a number of group swimming opportunities in some of the Lake District's most picturesque locations – although you may want to think about wearing a wetsuit in the colder months.
Vikki Hughes (opens in new tab) is a full-time mountain leader and outdoor activity instructor, and covers outdoor and hiking kit for Coach. She also spends a lot of her free time outdoors, so has plenty of opportunity to put gear through its paces.
Sign up for workout ideas, training advice, the latest gear and more.
Thank you for signing up to Coach. You will receive a verification email shortly.
There was a problem. Please refresh the page and try again.