The Best Food Steamers Of 2020
By Jake Stones , Nick Harris-Fry last updated
If you've been put off veg by soggy, over-boiled broccoli, buy yourself a food steamer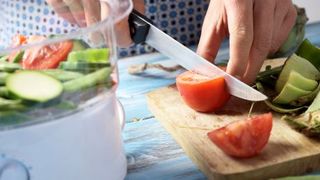 (Image credit: Unknown)
Eating more healthily doesn't have to be complicated. Veg. You should be eating more of it and that goes for everyone. And one of the best ways of cooking veg is to steam it, especially in an electric food steamer because they make it easier for amateur chefs to cook veg for the right amount of time. And since most steamers now include rice trays it makes that notoriously tricky carb easy to get right too.
There are a few details to consider when buying one, so we've got a run-down of what to look out for as well as our recommendations for large households, couples, fans of good design and those who just want the best of the best. Meaning there'll be nothing left for you to do but go full steam ahead and buy the best one for your needs.
What To Look For When Buying A Food Steamer
Price
If you're anything like us you'll look at the price first. You can find basic steamers for around the £25 mark. If your budget stretches to £100 you'll find feature-packed models that will cater to large families, and above that you'll find some real lookers with fancy features, such as fast water heating – a top-end steamer will be able to start cooking 30 seconds after you've turned it on.
Capacity
If there are only two of you in the household, a five- or six-litre capacity steamer will serve your needs. The larger steamers intended for large households go up to around 11 and 12 litres, although you won't go hungry if your family steamer is nine or ten litres. If you stray from our recommendations, it's worth double-checking that a model with a large capacity also has enough water storage so it won't run dry midway through cooking.
Types of steaming bowls
The shape and size of bowls in which you'll steam your food differ from product to product but there are two things to look out for: whether they fit inside one another, making for easy storage after use, and whether they're dishwasher safe for cleaning (most are).
A handy extra is a tray for cooking rice. Some even have the option of cooking two trays on different timers, meaning you can prepare perfectly-done rice and veg in one straightforward steam.
A bonus is a cooking bowl that can be taken straight to the table, so you don't have to bother transferring food to a serving platter.
Timers and displays
Most steamers, and all the ones on our list, have timers. More expensive steamers use a LED or LCD screen to display a countdown and other useful information like water levels. A more advanced steamer will also let you choose the type of food you're cooking and it'll select the appropriate time for you.
At the other end of things, you'll get a mechanical dial timer and a list of cooking times in the manual, and a gauge to indicate the water level.
The Best Food Steamers
Russell Hobbs 3-Tier Food Steamer
Best Value Steamer
(opens in new tab)
Russell Hobbs builds great products at appealing prices and this steamer is no exception. It may be priced for a student budget, but at nine litres it has enough capacity to feed a family. There's a rice tray included, the parts are dishwasher-safe and the three bowls collapse into one another after use, making it a space save, too. There's no digital readout, but the timer can be set at up to 60 minutes. Most impressive of all, this steamer is ready to go after just 40 seconds.
Buy from Russell Hobbs (opens in new tab) | £54.99
---
See related
Tower Essentials 3-Tier Steamer
Best Hob Steamer
(opens in new tab)
Steaming doesn't have to be hi-tech. If you'd rather use the hob to make perfectly cooked vegetables, pick up this straightforward three-tier steamer. The top two layers have holes to allow steam from the bottom pot through to cook the veg while you boil water (or cook something else if you want to be extra efficient) in the bottom. It's a little bit more washing up, but the actual cooking involved is almost as easy as using an electric steamer.
Buy from Tower (opens in new tab) | £49.99 (currently reduced to £27.49)
---
Morphy Richard Intellisteam Compact
Best Steamer For Couples
(opens in new tab)
This six-litre, two-compartment steamer is big enough to cook a full meal for two and the pre-set cooking times make it easy for inexperienced cooks to whip up something special. All the containers and accessories (which includes a rice tray) are dishwasher-safe so clean-up's a cinch too. It packs away neatly so you can stick it in a cupboard to avoid it hogging countertop space and becoming a source of resentment. A great steamer for the price.
Buy from Morphy Richards (opens in new tab) | £79.99
---
Philips Avent
Best Baby Food Steamer
(opens in new tab)
While it can be a lot of fun introducing your child to the joys of solid food, weaning isn't always the easiest or most enjoyable process. You can make things less stressful with the Philips Avent steamer, which makes preparing food for your little one to merrily fling across the room that bit simpler.
The steamer doubles as a blender, so once you've cooked the food inside you flip the jar over to blend without having to transfer the contents to another container. You can blend food up to a fine purée for younger kids, but there are also settings for chunkier meals as they get older. The Avent also comes with an array of weaning recipes, and the compact design makes it easy to store.
CHECK AMAZON (opens in new tab)
---
Cuisinart Cookfresh Professional
Best High-End Steamer
(opens in new tab)
If money isn't an issue this is the steamer for you. It's got all the features you'd expect at this price: a digital display, a glass steaming bowl that's dishwasher-safe (and also lifts out and doubles as a serving dish), and an ultra-quick warm-up time of 30 seconds. The keep-warm and reheat features are nice touches, while and the stainless steel body is an aesthetic upgrade on cheaper-looking plastic models. Our only quibble is the five-litre capacity, but all in all, this is great-looking, intelligent steamer.
Buy from Cuisinart (opens in new tab) | £175
---
Instant Pot Duo
Best Multi Cooker/Steamer
(opens in new tab)
Many of us aren't blessed with ample cupboard and counter space in our kitchens, so finding room for a dedicated steamer might seem like a luxury. If that's the case for you, check out the Instant Pot Duo multi cooker. Steaming is just one of the seven modes of cooking it offers, with the other star methods being pressure, rice and slow cooking. The 5.7-litre bowl is large enough to accommodate a family of four's worth of food (although there's an eight-litre version too), and the Instant Pot Duo is also easy to use thanks to the large console and 14 preset smart programmes, one of which is steam – pop your veg in, hit that button and your work's done.
Sign up for workout ideas, training advice, the latest gear and more.
Thank you for signing up to Coach. You will receive a verification email shortly.
There was a problem. Please refresh the page and try again.