The Best Pressure Cookers To Buy In 2019
By Caroline Preece last updated
Pressure cookers are faster and retain more nutrients than conventional cooking methods – we're sold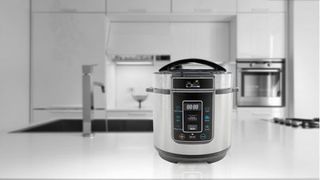 (Image credit: Unknown)
Faster is better. Healthier is better. So since pressure cookers allow you to cook healthier meals faster, are they the best? Who can say, but we can say that a pressure cooker's tight-fitting lid allows the build-up of steam to cook food at a higher temperature and therefore reduces cooking times, which in turn lowers energy use and preserves more nutrients. According to a study in the Journal Of Food Science (opens in new tab), broccoli retains more than 90% of its vitamin C content when cooked in a pressure cooker versus a 34% loss when boiling it in a pan of water.
If you've got space in your cupboards for just one kitchen gadget the pressure cooker makes a pretty strong case. Here are our picks of what's out there at the moment.
---
Sage Fast Slow Pro
Best All-Rounder
(opens in new tab)
Pressure cooker novices will appreciate the simple control panel on this model, while old hands will be attracted by the more advanced settings that allow you to sauté and sear. Fast and slow modes mean that you can adjust time, temperature and pressure settings to suit what you're cooking. The six-litre capacity is a good option for families, although it makes it a bit bulky and consequently tricky to store.
Buy from Lakeland (opens in new tab) | £199.99
---
Kuhn Rikon Duromatic Micro
Best For The Microwave
(opens in new tab)
What's easier and faster than stove-top pressure cooking? Electric pressure-cooking, yes, but also… pressure cooking in a microwave! The Duromatic Micro has a roomy four-litre capacity and works like a stove-top pressure cooker, but by popping it in the microwave you speed up the whole process. Once you've removed it from the microwave – carefully, using oven mitts – you can use the pressure indicator to see when the pressure has dropped and it's safe to open.
And if you're the kind of person who laughs in the face of danger, you'll find that you can't open the pot until the pressure has dissipated anyway, saving you from yourself. Why not get an electric pressure cooker? Because that's another appliance you need to find counter space for. This Duromatic Micro is a pan so it already has a place in the pan drawer.
Buy from Kuhn Rikon (opens in new tab) | £79.95 (currently reduced to £63.96)
---
Tefal Cook4Me Connect Electric Multicooker
Best For Beginners
(opens in new tab)
This Tefal cooker is certainly pricy, but you're paying for a service that holds your hand throughout the whole process of cooking dinner. The dedicated app has a ton of recipes and once you've made your choice you'll also get a shopping list you can check off as you go round the store. Follow the instructions (which normally won't go beyond "chop the ingredients"), wang it all in the pressure cooker and the app will connect over Bluetooth with the device to set the right cooking time. Slick.
Buy on Amazon (opens in new tab) | £199.99
---
See related
Tower Sure Touch 6-Litre Pressure Cooker
Best Budget Stove Top Pressure Cooker
(opens in new tab)
A great stove-top cooker at a low price and it's not the bare-bones item you might expect. There are two pressure settings and it comes with a stainless-steel steamer basket and stand to keep your counter free of burn marks. If you know how to handle a pressure cooker and don't want to spend over the odds, this is the right one for you.
Buy from Argos (opens in new tab) | £55
---
Bosch AutoCook Multicooker
Best Premium Cooker
(opens in new tab)
The most expensive pressure cooker on this list justifies its price by being more than a pressure cooker. This multi-purpose device also works as a slow cooker, a steamer, a fryer and loads more, and offers 50 preset programmes. It also features induction tech for better heat distribution and budding chefs can program in their own recipes to use at a later date.
Buy from Bosch (opens in new tab) | £349.99
---
Pressure King Pro Digital MultiCooker
Best Budget Electric Pressure Cooker
(opens in new tab)
At three litres, this model is good for one to two people, especially couples who both work long hours but would like to come home to a home-cooked meal that's ready to eat. That's because it has a timer function which means you (or the other person – scissor-paper-stone it to decide) can line things up in the morning and have the cooker kick in as you're on your way back. And there's no need to worry about the inevitable delay to your commute, since the keep warm feature will ensure the food stays piping hot without overcooking it.
Buy from Currys (opens in new tab) | £49.99
Sign up for workout ideas, training advice, the latest gear and more.
Thank you for signing up to Coach. You will receive a verification email shortly.
There was a problem. Please refresh the page and try again.