Shape Up With This Workout And Recipe From Tyrone Brennand
By Nick Harris-Fry last updated
Come for the bodyweight HIIT session, stay for the tasty mackerel and asparagus salad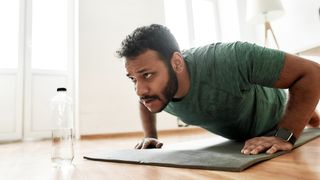 (Image credit: Unknown)
To get in shape, and then stay in shape for the long term, you need to both exercise and eat healthily. And other things, too, like sleep well, but let's stick to the first two things for now, because they're the focus of Be The Fittest (opens in new tab), a new book from trainer Tyrone Brennand (opens in new tab) (@bethefittest (opens in new tab) on Instagram) that contains a 12-week exercise and diet plan to help you get fitter and healthier.
Brennand's workouts combine HIIT with yoga poses to strengthen your muscles, increase your cardiovascular fitness, and develop your mobility and flexibility all in one fell swoop.
If that sounds good to you, we have an exclusive workout led by Brennand you can watch below. It's an 11-minute workout that just uses bodyweight moves like squats and press-ups, so all you need is enough space for an exercise mat.
Once you've done that, you'll want to enjoy a healthy dinner to refuel, and Brennand has you covered there too with this simple mackerel and asparagus salad recipe.
Ingredients (Serves Four)
4 smoked mackerel fillets, skinned and shredded
500g asparagus
250 cherry tomatoes, quartered
100g walnuts
For the dressing
1½tsp horseradish sauce
1½tsp honey
½tbsp lemon juice
1tbsp soy sauce
4tbsp soy sauce
Salt to taste
See related
Method
Steam or boil the asparagus till tender.
While the asparagus is cooking, mix the dressing ingredients together and toss the mackerel with the tomatoes and walnuts.
Top the salad with the asparagus, pour the dressing over and enjoy!
Be the Fittest by Tyrone Brennand (Quadrille, £15) Photography © Martin Poole
Be the Fittest: Your ultimate 12-week guide to training smart, eating clever and learning to listen to your body (opens in new tab)
Sign up for workout ideas, training advice, the latest gear and more.
Thank you for signing up to Coach. You will receive a verification email shortly.
There was a problem. Please refresh the page and try again.