The Small Dumbbells Countdown Circuit To Build Muscle At Home
By Joel Snape last updated
Use light weights for big gains with the countdown method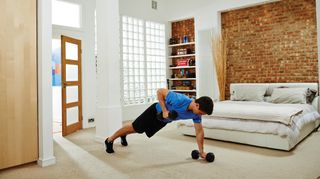 (Image credit: Unknown)
Dumbbells have been in high demand since COVID-19 hit last March, understandably so considering how often gyms have had to close. Unless you were lucky (and rich) enough to buy a selectorized set (opens in new tab), you may find yourself with dumbbells which are a bit too light. Perhaps you felt you had to get whatever was available, or perhaps they were fine for a while but you feel ready to progress to a heavier pair.
But you don't have to wait until dumbbell stocks are replenished or gyms reopen to find your perfect weight for an effective workout. There are clever ways to use smaller weights that will let you push your muscles to their limit, even with the flimsiest set of weights available.
This dumbbell workout gets your muscle fibres firing and then gives them some – mildly unpleasant – time under tension by using isometric holds. This is a combination that makes for rapid results, even with light weights.
How To Do This Workout
Do five reps, then stay in the "hold" position for five seconds. Do four more reps, and hold for four seconds. Repeat for three, two and one reps. Rest for 60 seconds, then go on to the next move. Do two sets in total.
See related
Start in a press-up position holding your dumbbells. Do a press-up and, at the top of the move, row one dumbbell upwards, pulling it into your armpit. Try to stay parallel to the floor – if your abs are hurting, it's working.
Hold at the lowest point of the press-up
Lean forward at your hips, holding a dumbbell in each hand. Pull the dumbbells up towards your sternum, and pause at the top, squeezing your shoulder blades together.
Hold at the top of the move
Stand tall with a dumbbell in each hand. Lift them up towards your chin, leading with your elbows and flaring them out to the sides. Keep the movement controlled so you don't put undue pressure on your rotator cuffs. Lower the dumbbells under control.
Hold at the top of the move
Stand tall with a dumbbell in each hand, shoulders back. Keeping your elbows tucked in to your sides, curl the weights towards your chest, stopping just before your forearms reach the vertical. Lower under control.
Hold at the top, adding a biceps squeeze
Hold a dumbbell in each hand with your palms facing inwards. Lean forward at your hips and lift the dumbbells outward to chest height, keeping a bend in your arms. Lower them under control.
Hold at the top of the move
From 2008 to 2018, Joel worked for Men's Fitness, which predated, and then shared a website with, Coach. Though he spent years running the hills of Bath, he's since ditched his trainers for a succession of Converse high-tops, since they're better suited to his love of pulling vans, lifting cars, and hefting logs in a succession of strongman competitions.
Sign up for workout ideas, training advice, the latest gear and more.
Thank you for signing up to Coach. You will receive a verification email shortly.
There was a problem. Please refresh the page and try again.