These Diabetes-Friendly Recipes From WW Will Appeal To Anyone
By Jonathan Shannon published
Treat yourself to a fresh take on turkey burgers and pair them with air-fried corn ribs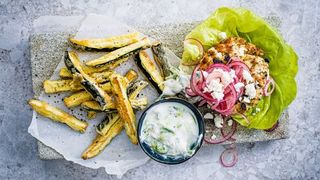 (Image credit: Unknown)
We've taken a shine to WW, the company formerly known as Weight Watchers, recently. When we asked one writer to review the WW app, he ended up losing 10kg in four months.
We like it even more now we've heard about WW's features for people affected by diabetes – that's about 20% of people in the UK, if you include those with prediabetes. If someone with Type 2 diabetes joins WW, their PersonalPoints will be set up to encourage them to eat foods that will have less of an impact on their blood sugar, such as lean protein, legumes and healthy fats.
There are also plenty of diabetes-friendly healthy recipes to try, like these two from the Everyday Cookbook (opens in new tab) by WW, shared exclusively with Coach. The first, tzatziki turkey burgers with courgette fries, swaps a bread bun for lettuce, and the combination of herbs, tangy pickled onion and tzatziki makes sure it's still packed full of flavour.
Fair warning: the second recipe requires an air fryer. If you don't own one already, you may well be persuaded to buy one once you feast your eyes on the spiced corn ribs.
Tzatziki Turkey Burgers With Courgette Fries
429 calories per portion
Ingredients (Serves Four)
45g wholemeal bread
500g turkey breast mince
150g light feta, crumbled
½tbsp dried mint
½tbsp dried oregano
½tbsp cumin seeds
40g pitted black olives, finely chopped
1 small red onion, thinly sliced
2tbsp red wine vinegar
1tbsp agave syrup
3tbsp plain flour
750g courgettes, cut into batons
1tbsp olive oil
4-8 large lettuce leaves
For the tzatziki
200g fat-free natural Greek yogurt
150g cucumber, deseeded and grated
½tbsp dried mint
Method
Blitz the bread into crumbs in a food processor, then put in a mixing bowl with the turkey, mint, oregano, cumin seeds, olives and half the feta. Season and mix everything together well, then shape into four patties.
Mix the red onion, vinegar and agave syrup in a small bowl and set aside. In another small bowl, mix the tzatziki ingredients and season to taste.
Preheat the oven to 220°C/200°C fan/gas mark 7 and line a large baking tray with baking paper. In a large mixing bowl, whisk the flour with 3tbsp of cold water to make a smooth batter, then season well. Add the courgettes and toss to coat, then spread them out on the baking tray and bake for 10 minutes.
Meanwhile, heat the oil in a nonstick frying pan over a medium-high heat. Add the patties and cook for two to three minutes each side until golden. Turn the courgette fries over and put the patties on another baking tray. Bake the courgettes and patties for 10-15 minutes until the patties are cooked and the courgette fries are crisp. Season the fries to taste.
Drain the onions and add some of the pickling liquid to the tzatziki to taste. Wrap the patties in lettuce leaves and serve topped with the tzatziki, the remaining crumbled feta and the red onion, with the courgette fries on the side.
See related
Spiced Corn Ribs
239 calories per portion
Ingredients (Serves Two)
2 corn on the cobs (about 130g each)
1tbsp sunflower oil
1½tsp smoked paprika
50g fat-free natural Greek yogurt
½ lime, zested and juiced
Method
Carefully slice the bottom off each corn cob so it stands flat. Stand one cob up on its cut end, insert a very sharp knife into the centre of the top of the cob and carefully slice the cob in half lengthwise, using a see-saw motion. Repeat with the other cob.
Put each cob half on a cutting board, cut-side up. Cut through the core lengthways, so you slice each half into two or three "ribs". Each rib should be roughly three to four corn kernels wide.
In a large bowl, combine the oil and paprika, then season well. Add the ribs and use your hands to toss them in the oil mixture until evenly coated.
Preheat the air fryer to 200°C. Arrange the corn ribs in the basket, in a single layer if possible. Air-fry for 8-10 minutes until the ribs curl and the kernels are golden – if you want them crisp, cook them for the full 10 minutes.
Meanwhile, combine the yogurt with the lime zest and juice, and season to taste with freshly ground black pepper. Serve the corn ribs drizzled with the yogurt dressing.
Jonathan Shannon has been the editor of the Coach website since 2016, developing a wide-ranging experience of health and fitness. Jonathan took up running while editing Coach and has run a sub-40min 10K and 1hr 28min half marathon. His next ambition is to complete a marathon. He's an advocate of cycling to work and is Coach's e-bike reviewer, and not just because he lives up a bit of a hill. He also reviews fitness trackers and other workout gear.
Sign up for workout ideas, training advice, the latest gear and more.
Thank you for signing up to Coach. You will receive a verification email shortly.
There was a problem. Please refresh the page and try again.