Vegan Recipes To Help Make Veganuary Delicious
By Camilla Artault published
Do your bit for the planet by going vegan for a month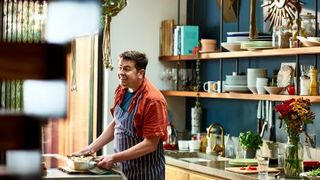 (Image credit: Unknown)
Veganuary encourages people around the world to try going vegan for January. There are many reasons why you might choose to go vegan, but this year the organisation behind Veganuary is throwing the spotlight on how a vegan lifestyle can reduce your environmental impact with an advert featuring Bigfoot.
According to a recent YouGov survey of just over 2,000 British people, a record 34% were interested in trying a vegan diet. "As more people become aware of the incredible impact our food choices have on the health of our planet, attitudes towards eating vegan are changing," says Toni Vernelli, Veganuary's head of communications. "It is incredibly exciting to see one-third of Brits are interested in trying a plant-based diet, something that would have been inconceivable just a few years ago."
Going vegan – even for a month – brings a new set of challenges. How do you keep your diet varied, nutritious and interesting? Sign up to join the free Veganuary challenge (opens in new tab) and you'll have access to plenty of free recipes, resources, inspiring daily emails and support from others undertaking the challenge.
We can help, too. We have expert advice on what you should know about a vegan diet, as well as tips for planning a vegan diet so Veganuary doesn't leave you hungry. We've also got plenty of delicious vegan recipes, including five of our favourites below and if the cooking gets a bit much, turn to these vegan recipe boxes and healthy meal delivery services.
Vegan Recipes
Chickpea omelette
This high-protein vegan omelette – the recipe comes from The Vegan Athlete's Cookbook (opens in new tab) – is made with chickpea (gram) flour, a brilliant egg substitute for vegans because it is rich in protein, fibre and iron. See the recipe
Vegan burrito
This satisfying bean and veg burrito from Naturally Stefanie (opens in new tab) by Stefanie Moir is full of punchy flavours and plenty of protein to ensure you're not hungry an hour later. It's easy to make and easy to demolish for lunch or dinner. See the recipe
Tropical chia pudding
Pep up your breakfast with this make-in-advance tropical chia pudding from Chef Day Radley of the Vegan Chef School (opens in new tab). Chia seeds are high in protein and this breakfast dish is packed with flavour thanks to the coconut, lime and cinnamon. See the recipe
See related
Smoky aubergine veggie chilli
This veggie chilli recipe from the WW Veggie & Vegan cookbook (opens in new tab) takes just 40 minutes to make and delivers on the flavour front as well as ensuring you get your five-a-day. See the recipe
Spiced parsnip, sweet potato and lentil soup
As comforting as a hug and perfect for a cold January day, this punchy spiced soup recipe comes from My Vegan Year: The Young Person's Guide To Going Plant-Based (opens in new tab) by Niki Webster. See the recipe
Camilla Artault is a writer and keen runner. She has covered women's running gear – testing leggings, jackets, bras, tops and shorts – for Coach since 2018, as well as interviewing experts and writing about a range of health and lifestyle topics.
Sign up for workout ideas, training advice, the latest gear and more.
Thank you for signing up to Coach. You will receive a verification email shortly.
There was a problem. Please refresh the page and try again.