Joe Wicks 10-Minute Halloumi Tacos With Peri-Peri Mayo Recipe
By Nick Harris-Fry published
Whip up these halloumi-stuffed wraps for a quick and tasty dinner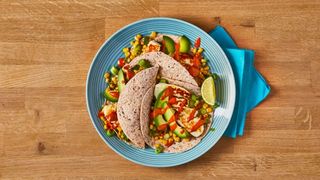 (Image credit: unknown)
Right now you are just ten minutes away from eating halloumi tacos. OK, maybe that's an exaggeration – you need to be in your kitchen armed with the specific ingredients for it to be true – but hopefully it drives the point home that this delicious recipe really doesn't take long to make.
The recipe has been created by Joe Wicks for recipe box delivery service Gousto, so if you want to avoid having to shop for the ingredients involved you can order it as part of a package from the Gousto website. We do recommend stocking up on the ingredients though, because once you give this a go it's sure to become a staple of your weekly menu.
Ingredients (Serves Two)
1 lime
2 spring onions
2tsp smoked paprika
1tsp dried oregano
½tsp dried chilli flakes
1 avocado
200g halloumi cheese
15ml cider vinegar
6 seeded tortillas
30ml mayonnaise
150g can of sweetcorn
1tbsp olive oil
See related
Method
Add the mayonnaise, smoked paprika, oregano, chilli flakes and cider vinegar to a small bowl. Add the olive oil, 1tbsp water and a pinch of salt. Give it a good mix – this is your peri-peri mayo.
Drain the sweetcorn. Slice the spring onion finely. Cut the lime in half and cut one half into two wedges.
Add the drained sweetcorn and chopped spring onion to a bowl. Add the juice of the lime half (save the wedges for later) and a pinch of salt and give it a good mix – this is your sweetcorn salsa.
Cut the avocado in half lengthways, around the stone. Remove the stone using a teaspoon. Scoop the avocado out of the skin using a spoon and slice it finely, lengthways.
Cut the halloumi into 12 slices. Heat a large, dry, wide-based pan (preferably non-stick) over a high heat. Once hot, add the halloumi slices. Cook for one to two minutes on each side or until golden.
Put the seeded tortillas on a plate. Put the plate in the microwave and cook for one to two minutes, or until warmed through.
Add the golden halloumi to the warmed tortillas. Top with the sweetcorn salsa and sliced avocado. Drizzle over the peri-peri mayo and serve with lime wedges on the side.
Joe's 10-Minute Halloumi Tacos With Peri-Peri Mayo is available to order on this week's Gousto (opens in new tab) menu
Sign up for workout ideas, training advice, the latest gear and more.
Thank you for signing up to Coach. You will receive a verification email shortly.
There was a problem. Please refresh the page and try again.