Is It Worth Paying More For Healthy Snacks?
By Sarah Lienard published
Or are supermarket own-brand versions just as good? We put the spotlight on pre-packaged snacks to find the best budget-friendly options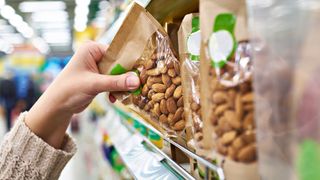 (Image credit: Unknown)
If you've been shelling out hard-earned cash for the convenience of pre-packaged snack subscription boxes, it's probably worth a rethink. Supermarkets are mimicking many of the snacks on offer (if not the regular delivery), with lookalike packaging, similar flavour combinations and near-identical names. You could certainly save money simply by opting for these snack packs on your weekly shop.
But are you getting healthier, more nutritious snacks if you pay more? Coach was recently asked by a reader whether there is any significant difference between more expensive healthy snack options, such as Graze boxes, and the cheaper copycat products that have been popping up in supermarkets including Aldi and Lidl.
We started by asking Alana McDonald, a registered dietitian with the British Dietetic Association (opens in new tab), for her view.
Are more expensive healthy snacks necessarily better for you?
"There is little evidence to suggest that there are significant differences in nutritional value when comparing more expensive and less expensive items, which are otherwise similar in presentation," says McDonald. "Often the nutritional composition is similar and it is possible in some circumstances that these foods are manufactured in the same factory. Checking the labels can be really helpful and save you a lot of money, because many non-branded snacks offer the same benefits as branded snack products."
What should we be looking for on the packet when choosing a healthy snack?
"The biggest ingredients to focus on would be added salt and added sugar," says McDonald. "Pre-packaged 'healthy' snacks can also be laden with artificial sweeteners, colourings and preservatives. These can act to reduce the calorie count, but may also reduce the overall nutritional value of the food. Sometimes a higher-calorie product which hasn't seen as much processing may be a healthier option overall with fewer additives."
With that in mind, we hit the aisles to compare the nutritional information, and taste-tested the snacks alongside with their more expensive equivalents where possible. Here's what we'd recommend.
The Best Lidl Own-Brand Healthy Snacks
Alesto Veggie Protein Power
This crunchy mix of roasted edamame beans, puffed chickpeas and baked cashews has a peppery coating of chilli, lime and sea salt. When taste-tested against the Graze equivalent, we couldn't discern between the two and nutritionally the differences are negligible. The Graze product is slightly lower in calories, fat and salt per 100g, but Lidl's is slightly higher in protein and fibre, and lower in sugar. It's pre-portioned in a plastic tray and provides a very reasonable 134 calories per 28g serving, along with 8.5g protein and 3g fibre. At 69p a pop, versus Ocado's £1.19 for the Graze original, it's a very satisfying snack in more ways than one. 69p for a 28g packet
Alesto Cacao & Orange Protein Balls
These moreish protein balls have a satisfyingly chewy texture and a nice hit of orange flavour in every bite, and are dusted with cacao powder giving them a truffle-like appearance. The ingredients list is reassuringly short and recognisable – dates, cashews, whey protein powder, rice starch, grape juice, raw cacao powder, cacao nibs and orange oil. Each packet provides 9.1g protein and 165 calories, but note the sugar is on the high side at 17.6g. 99p for a 45g packet
Alesto Punchy Protein Nuts
This is another Lidl product with an almost identical Graze counterpart (apart from the price, Graze's is £1.19 at Ocado), and again, the two snack packs have very similar nutritional information. Both options have a 41g serving size and provide 252 calories (Lidl) and 245 calories (Graze), making it a higher-calorie option than other products in the range. We'd hate to imply more calories means more taste, but this is a very enjoyable snack of crunchy peanuts, cashews and almonds with a chilli and lime coating. 69p for a 41g packet
The Best Morrisons Own-Brand Healthy Snacks
Market Street Fruit, Seed & Nut Mix
If you like to keep your snacks simple and avoid added flavourings, this is likely to hit the spot – a mix of raisins, goji berries, pumpkin seeds and almonds in a portable plastic tub. As you'd expect, it's relatively high in fat and natural sugars from the nuts and fruit. Do bear in mind that the tub is deceptively deep, containing 60g in total – roughly double the serving of a Graze packet equivalent – so if you're looking to count calories, you might like to enjoy it over two snacking sessions. 85p for a 60g packet
Market Street BBQ Mix
In our opinion this beat the Graze equivalent on taste alone, with a more intense, smoky BBQ flavour and a pleasing crunch. It's a blend of corn, almonds, chilli peas and broad beans with barbecue seasoning. Per 100g, the nutritional info is pretty similar: Graze provides slightly fewer calories, fat and salt, but the Morrisons mix is marginally lower in sugar and higher in protein and fibre. Again, the tub does contain 50g (roughly double the Graze portion size), so bear this in mind and snack wisely. 85p for a 50g packet
See related
The Best Aldi Own-Brand Healthy Snacks
The Foodie Market Paleo Bar Almond & Cashew
One of the most delicious raw bars we tried, this isn't too sweet and has a lovely nutty flavour. It boasts only four ingredients – dates, almonds, cashew nuts and almond oil – and is cold-pressed and free from gluten, artificial colours, flavourings or preservatives. Each bar contains 203 calories, along with 10g fat (only 1.4g of which is saturated), 4g fibre, 6g protein and 0.02g salt. It does contain 16g sugar though, from the dates. 49p for a 45g bar
The Foodie Market Woodland Jumble
It may have been jazzed up with a fancy name, but this simple selection of plain assorted nuts with nothing else added is a good option if you want to go down the au naturel route. It contains cashews, almonds, brazil nuts and hazelnuts, while the Graze equivalent has almonds, hazelnuts and walnuts. The Aldi packaging is a little unhelpful, stating 159 calories per 25g serving while the whole tub contains 70g, so it's difficult to portion out without dusting off the scales. Luckily, thanks to the natural fats in nuts, a half-tub portion is quite filling. 59p for a 70g packet
Oh So Delish Hazelnut Cookie Dough Square
If you bite into this expecting actual cookie dough you'll be disappointed – the texture is reminiscent of a raw fruit and nut bar – but if you just want something relatively sweet to give you a hit of energy when that afternoon slump hits it's a more wholesome option than reaching for the biscuit jar. The calorie count is modest at 179 calories per 42g bar, but it does contain 18g of sugars from date paste, chocolate chips and coconut flower sugar – so perhaps best enjoyed as a treat. 69p for a 42g packet
Sarah is an experienced health writer, previously holding the title of health editor at BBC Good Food (opens in new tab). Sarah has contributed reviews, interviews and features to Coach.
Sign up for workout ideas, training advice, the latest gear and more.
Thank you for signing up to Coach. You will receive a verification email shortly.
There was a problem. Please refresh the page and try again.