The Best Healthy Cookbooks For Improving Your Diet
By Jonathan Shannon last updated
Whip up some tasty fare that's good for you with the aid of these kitchen companions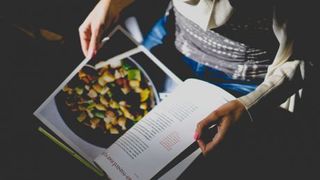 (Image credit: Unknown)
We'll come clean – our criteria for what makes a healthy cookbook are pretty loose. That's mostly because choosing to cook instead of ordering in means you're odds-on to eat fewer calories as well as less fat, salt and sugar, unless you're preparing a turducken.
But there are three things we look for in recipes: they feature plenty of veg (because whose diet couldn't do with more of those?), they are easy to make and most importantly they're tasty. We've tried all these cookbooks so we can guarantee each satisfies those three points… OK, time to come clean again, we haven't tried one of them but since it's the fastest-selling non-fiction book in the UK ever we think it's a safe option. Let's start there.
---
Pinch Of Nom
100 Slimming, Home-style Recipes
This has been a cookbook phenomenon and it's easy to see why. Kay Featherstone and Kate Allinson take classic British fare and keep the calories under control with simple techniques like using low-fat dairy and low-calorie sprays, without compromising on taste. The approach is compatible with the systems of the most popular UK diet programmes, without sticking too rigorously to any, and most of therecipes take less than 30 minutes and use easy-to-come-by ingredients. There are also multiple dishes that use each ingredient, so you're not leaving esoteric stuff languishing in the back of your cupboard until you return to that one recipe. So, healthy: check. Easy: check. And tasty? Unless there are hundreds of thousands of disappointed people out there, we're going to say yes.
Buy on Amazon (opens in new tab) | £9
---
(opens in new tab)
Lentil bolognese from Veggie Lean In 15. See the recipe
Another bona fide phenomenon and no less deserved, this book contains accessible and quick dishes from Joe Wicks that anyone can complete in 15 minutes (unlike Jamie Oliver's 15 Minute Meals, which took us 30 minutes minimum). Any of the Lean In 15 books justifies a place in your kitchen, but since everyone could do with as much veg as possible we're recommending this one. There's plenty that will take the fancy of any committed meat eater – breaded goat's cheese, anyone? – and even more that will add some much-needed variety to the typical British diet.
Buy on Amazon (opens in new tab) | £10.76 | Veggie Lean In 15 review
---
HelloFresh Recipes That Work
(opens in new tab)
As one of the originators of the recipe box service, HelloFresh has the advantage of road-testing and refining each recipe with thousands of customers. The only difference between this and a recipe box is that you have to buy the ingredients yourself. Usefully for self-taught chefs and bluffers, the first chapter explains how to best chop different types of veg and answers the questions most recipe books assume you already know the answer to. For instance, how much is a pinch of salt exactly? The rest of the book is split into vegetarian, chicken, fish, red meat, and finally "something for the weekend" – more complicated, time-consuming recipes. As that implies, the rest of the recipes are straightforward and suitable for a midweek dinner, and it's one we keep coming back to. Even after a year of using it every week we still find new dishes that take our fancy – the rigatoni with roasted cherry tomatoes, peppers and olives plus torn mozzarella scattered over the top was as good as it sounds, even when we omitted the chorizo.
Buy on Amazon (opens in new tab) | £10.81 | HelloFresh Recipes That Work review
---
See related
This is one of the more accessible health-focused cookbooks we've tried. Author Dale Pinnock takes care not to go too out-there and is even apologetic for including a kale salad recipe, but it's the meal planners in the back that really make this an achievable way of changing your diet for the better. Each meal planner picks five meals – two of which are plant-based and two of which are under 500 calories (Public Health England recommends main meals should be around 600 calories) – and there's a shopping list helpfully compiled for you too. We didn't find the recipes as tasty as HelloFresh's, but flicking through it just now we're reminded of the ones we'd make again – veggie-packed penne with feta, for instance – and found more we plan on trying: sausage, sage and squash one-tray roast, we're looking greedily at you.
Buy on Amazon (opens in new tab) | £8.94
---
(opens in new tab)
Slow roasted peppers, aubergines and tomatoes with a basil and almond dressing from The Green Roasting Tin. See the recipe
We're all for eating more veg but – cards on the table – it's easier to make tasty meals with meat. One shortcut to big, bold flavours when cooking with veg is roasting it and – surprise, surprise – roasting is The Green Roasting Tin's stock in trade. The book is divided into vegetarian and vegan recipes, with each main section subdivided by roasting time, beginning with 30 minutes or less. We wouldn't return to every recipe we've tried, but two have become standbys: all-in-one roasted tomato and orzo, and caponata-style aubergines with olives, capers and tomatoes, not least because of the minimal active cooking time involved.
Buy on Amazon (opens in new tab) | £10.15
---
(opens in new tab)
Mushroom gyro and homemade tzatziki from BISH BASH BOSH! See the recipe
Most of the recipes in this vegan cookbook require far more involvement than others on this list, but JFC is it worth it. Both the aubergine jalfrezi and jackfruit biryani rivalled any homemade curry we've made (and we reckon we make good ones), while the shepherd's pie and lasagne also impressed. There's also a section for quicker meals, and the quesadillas have now become our go-to, superseding the HelloFresh and Veggie Lean In 15 versions, while the spaghetti cooked in the same pan as the sauce, with just enough boiling water added to make sure there's nothing to drain off is next-level delicious. Vegan or not, these recipes are well worth adding to your repertoire.
Buy on Amazon (opens in new tab) | £9.91
Jonathan Shannon has been the editor of the Coach website since 2016, developing a wide-ranging experience of health and fitness. Jonathan took up running while editing Coach and has run a sub-40min 10K and 1hr 28min half marathon. His next ambition is to complete a marathon. He's an advocate of cycling to work and is Coach's e-bike reviewer, and not just because he lives up a bit of a hill. He also reviews fitness trackers and other workout gear.
Sign up for workout ideas, training advice, the latest gear and more.
Thank you for signing up to Coach. You will receive a verification email shortly.
There was a problem. Please refresh the page and try again.