Thank Chris Hemsworth For This Smoky Steak Tacos Recipe
By Nick Harris-Fry last updated
It's tasty, easy and Thor-approved – what are you waiting for?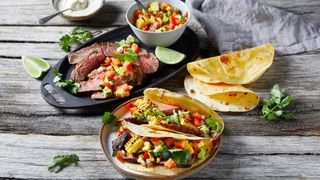 (Image credit: unknown)
We are almost 100% certain that just after your first mouthful of juicy steak, corn with just a touch of char, rich avocado and a little fire from the chilli you'll find yourself saying "thanks, Chris". Because credit where credit's due: Chris Hemsworth has introduced the extensive talents of the team behind his superhero-franchise worthy body to you and us through his health and fitness app, Centr. That team includes chef Sergio Perera, who's behind this taco-tastic recipe and who works with Hemsworth on his meal plans when he's preparing for films.
A subscription to Centr gets you a personalised training and nutrition plan, although even if you dial down all the customisable settings to the bare minimum it still requires a lot of commitment. That means a lot of workouts and mobility sessions – six days a week – and a lot of not-that-easy-to-come-by ingredients in the meal plans. Centr's methods all stack up though, and if you want to make a serious lifestyle change and become radically healthier, you could do a lot worse.
This recipe, on the other hand, does not take a lot – of time, that is, or ingredients you have to Google and then find a health store to buy them. It's also indicative of the diet approach in the app – when there's meat it's top-quality, there's plenty of veg, and there are fewer carbs than you're probably used to.
If you want something healthier and tastier than sausages and burgers to cook on the barbecue during what looks like an extended period of hot, dry weather in the UK, then we don't think you can do much better than this.
See related
Centr Review: We Followed The Chris Hemsworth Fitness App For Two Weeks
Smoky Steak Tacos Recipe
Ingredients (serves two)
For the tacos
1 corn on the cob
2tsp olive oil
400g scotch fillet steak
3tsp smoked paprika
4 small corn tortillas, warmed
4tbs Greek yogurt
Salt and pepper, to taste
For the salsa
2 medium tomatoes, diced
½ avocado, diced
½ red onion, finely diced
1 bunch of fresh coriander, roughly chopped
2 small red chillies, deseeded and chopped
1 lime, juiced
Method
Preheat the grill to high heat.
Rub the corn with half the oil and season with salt and pepper. Grill for ten minutes, turning every few minutes until it is cooked and some kernels are charred. Cool slightly and strip the kernels from the cob.
While grilling the corn, rub the steak with remaining oil and season with paprika, salt and pepper. Grill for two to three minutes each side for medium rare. Rest in a warm place covered loosely with foil for ten minutes, then slice thinly against the grain.
Meanwhile, combine the salsa ingredients and season with salt and pepper. Toss lightly with the cooked corn kernels.
Divide the steak between the tortillas and top with salsa and yogurt to serve.
Sergio Perera is a featured expert on Chris Hemsworth's fitness program, Centr, available from the App Store (opens in new tab) or centr.com (opens in new tab)
Sign up for workout ideas, training advice, the latest gear and more.
Thank you for signing up to Coach. You will receive a verification email shortly.
There was a problem. Please refresh the page and try again.