A Week's Worth Of Mouth-Watering BOSH! Recipes To Try
By Jake Stones published
Whet your appetite for this plant-based pair's new vegan cookbook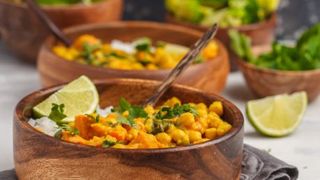 (Image credit: Unknown)
Saying goodbye to meat and animal products and opting for a vegan diet tends to be met with an avalanche of questions from friends and family, and the occasional stranger. Questions like: "Isn't it hard?", "What about protein?", "Aren't the meals really boring?" and the all-time classic "But bacon?!"
The easy answers to all those questions come from BOSH!, an energetic plant-based cooking duo comprising Henry Firth and Ian Theasby, whose easy, protein-packed and interesting recipe videos on social media are a hit with both vegans and people just looking for a plate of plant-based food. (OK, they don't answer the question "But bacon?!" but it's not really a question anyway. Leave it.)
The pair's second cookbook BISH BASH BOSH! comes out on 4th April (it's available to pre-order from Amazon (opens in new tab)), but if you can't wait for the book and its accompanying 140 vegan meal ideas (or you just want a few easy vegan recipes right now), you'll be delighted to know we've selected seven recipes that took our fancy and laid them out in a meal-planning menu of deliciousness.
Monday: Veg-Packed Quesadilla
Chilli and cheese is a pretty popular combo, and guess what? Vegan chilli and vegan cheese is a similarly primo pairing as well.
Tuesday: Super Green Soup
There are more greens in this soup than you can shake a celery stick at, and the inclusion of broccoli, spinach and tofu means you're not missing out on protein either.
Wednesday: Cuban Rice, Beans And Greens
A solution to the ever-thorny problem of vegan protein comes in the form of this beans and greens dish. Black beans for the win!
Thursday: Rainbow Chestnut Stew
This stew-pendous recipe not only contains the colours of the 'bow, but contains enough flavoursome treasure to be found at the end of one. And the most valuable jewel in that treasure chest? Pearl barley, which is a complete protein.
See related
Friday: Spicy Chickpea Curry
One glance at this curry is all it'll take to have you wondering why you've spent so much time and money eating out. The only painful thing about the whole process is the spice – and if you really can't tolerate it, don't add it! Problem solved.
Saturday: Cauli Cheese Pasta Bake
Whether you're a vegan convert who's missing cheese sauces, or you're unsure about going full vegan because you think you'd miss cheese too much, there's nothing quite like this BOSH! vegan cheesy pasta bake. It also makes a perfect dinner when you're hosting both vegans and fussy non-vegans.
Sunday: Vegan Chilli
Beans and tofu aren't just a protein delivery system, they also soak up the four spices used in this recipe to deliver bags of flavour. These flavours only get richer over time, so double the recipe and reheat it for an even better chilli tomorrow.
Jake was formely an intern for Coach and now contributes workouts from some of London's top trainers. As well as training in the gym and running, he's competed in the eight-hours-long overnight event Europe's Toughest Mudder twice and the 24-hours-long World's Toughest Mudder once.
Sign up for workout ideas, training advice, the latest gear and more.
Thank you for signing up to Coach. You will receive a verification email shortly.
There was a problem. Please refresh the page and try again.