A Convenient And Healthy Lunch Option It's Worth Stocking Up On
By Jonathan Shannon published
Prep Co's pots are a legitimately nutritious lunch standby – and cheap to boot. Just add boiling water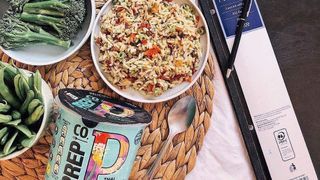 (Image credit: Unknown)
Photograph: Courtesy The Prep Co / @thestyletune
Don't say it's like a healthier Pot Noodle, don't say it's like a healthier Pot Noodle, don't say it's like a healthier Pot Noodle…
It's like a healthier Pot Noodle, but without the noodles. There, we said it – couldn't resist. You open up the Prep Co pot, pour in boiling water, close the lid, wait for a bit, give it a stir and then tuck in. We could have said it's healthy dehydrated food, but for most people that means astronaut ice cream and pot noodles – so Prep Co's range of four pots are best described as healthy pot noodles. That does make them exceptionally convenient, especially when you're tied to your desk and the cooking facilities on offer don't extend beyond a kettle.
How healthy, we hear you ask? Really pretty healthy considering. Let's start with the fact that a pot counts as one of your five-a-day and all four flavours are high in fibre. The Mediterranean couscous, Mexican chilli rice and Thai green curry rice and quinoa are all low in fat and saturated fat, while the Indian spiced rice and lentils pass the marker which allows them to be called a source of protein.
See related
They're pretty tasty, too. We tried the Mexican chilli rice and the Indian rice and lentils and would eat them again given half the chance – not as nice as a freshly prepared dish of the same, but a perfectly satisfying and convenient option. Our only complaint is that each pot is a mere 300 calories – which you could call extra healthy, and certainly leaves room for a couple of lunchtime extras. Or you could even open up a second serving (it helps that they cost less than £2 a pot) and you'd keep within Public Health England's suggested 400-600-600 rule for your meals (that's 400 calories for breakfast, 600 for lunch and 600 for dinner).
But between you and us, we're planning on stockpiling a load in our work locker and eating them before a lunchtime or post-work five-a-side, run or gym session. We always struggle if we do something active just before a main meal, so chowing down on one of these pots which are heavy on the wholegrain carbs two hours before we lace up should do the trick.
Buy on Amazon (opens in new tab) | £11.34 for six
Jonathan Shannon has been the editor of the Coach website since 2016, developing a wide-ranging experience of health and fitness. Jonathan took up running while editing Coach and has run a sub-40min 10K and 1hr 28min half marathon. His next ambition is to complete a marathon. He's an advocate of cycling to work and is Coach's e-bike reviewer, and not just because he lives up a bit of a hill. He also reviews fitness trackers and other workout gear.
Sign up for workout ideas, training advice, the latest gear and more.
Thank you for signing up to Coach. You will receive a verification email shortly.
There was a problem. Please refresh the page and try again.